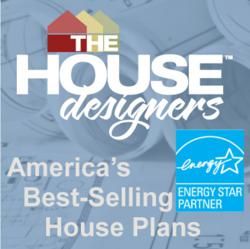 "We wanted our new website design to make it easier for consumers and builders to search, save and share house plans," said Tammy Crosby, Chief Operating Officer of The House Designers.
Portland, Oregon (PRWEB) August 15, 2012
The House Designers, the leading provider of online residential house plans announces the redesign of thehousedesigners.com. For over 10 years, The House Designers has been providing residential builders and consumers with the best-selling, most innovative home designs through its websites, e-newsletters, e-zines and partnerships.
Thehousedesigners.com features a sleek redesign, improved navigation and search functionality to better assist homeowners and builders in finding the right house plan. The redesign offers more content, house plan photography, social interaction and great product ideas for a new home.
"We wanted our new website design to make it easier for consumers and builders to search, save and share house plans," said Tammy Crosby, Chief Operating Officer of The House Designers. "Our goal as a company is to make house plans affordable and easy to find for consumers and builders building new homes, and our new website design changes do just that."
The new navigation bar found on every page includes customer testimonials, finding house plans, design and product ideas and popular house plan collections like ENERGY STAR® house plans and exclusive designs.
"We've recently launched a House Relief Program, Realtor Program and Preferred Builders Program, which can easily be accessed from links in the top navigation bar and home page," Crosby said.
Among many of the new highlights is the addition of social media throughout the website so visitors can easily share images of house plans and comment on the latest home designs.
One of the most influential social media tools among consumers looking to redesign their existing home or build a new home is Pinterest. It's a highly visual platform that allows users to share images by pinning them to different boards.
According to comScore data, Pinterest hit more than 11 million unique monthly visitors earlier this year, crossing the 10 million mark faster than any other standalone site in history. Its main demographics are upper-income women aged 18-34, a target market for the home building industry.
"Our designers and architects love using Pinterest to share their home design ideas and promote their latest work to prospective clients looking to build a new home," said Crosby, who says the feedback has been invaluable in understanding what features and design elements consumers need and want from a new home.
Consumers can also save their favorite house plans by creating a free account on thehousedesigners.com and then share these home plans with their friends, family and potential contractors. A free modification form allows consumers and builders to submit design changes to any house plan for a free modification quote. Also available on each plan page, is a cost-to-build estimator based on current costs for products and labor specific to the consumer or builders location.
For the latest on home design and building products there's a Product Ideas section and a weekly Home Ideas newsletter where new content is posted weekly for readers to stay-up-to-date on the latest home building topics and trends.
View the redesigned website at thehousedesigners.com and share your feedback by clicking here.
ABOUT THE HOUSE DESIGNERS ENERGY STAR® HOUSE PLANS: The House Designers are the leading residential architects and designers in the U.S. comprising the majority of pre-drawn plans in America. The House Designers has the best-selling, most popular house plans in America all under one roof owned and operated directly by the designers. They have clients who have built their homes in every state in the U.S. and in 56 countries around the globe.