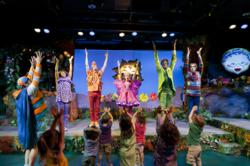 "Part concert, part dance party, part yoga class, part musical theatre, part preschool and part adventure" – Broadway World Jr.
New York, New York (PRWEB) August 16, 2012
The Ultimate Playdate, The Ohmies, Comes to The Fair at The PNE: AUGUST 18 – SEPTEMBER 3 !
Experience the Canadian Premiere of The Ohmies: SUPER SILLY SASSY FRASSY SO MUCH FUN TOGETHER TOUR
"The Best of the Season." – NY Times
"The best has just arrived! The Ohmies, a show like none other." – examiner.com
"Part concert, part dance party, part yoga class, part musical theatre, part preschool and part adventure" – Broadway World Jr.
"An incredible journey! A great musical! – NY1
"I can't say enough good things about this show" – Macaroni Kid
Direct from the heart of Broadway to The Fair at the PNE from August 18 through September 3 - performing twice daily - The Ohmies (http://www.theohmies.com) are poised to become the newest BFFs for kids in Vancouver. The Ohmies, created for preschool and early elementary children, is designed to engage kids and their families in a one-of-a-kind actively fun and participatory musical experience for kids. It encourages a lifestyle of healthy living and activity, and provides early intervention strategies to help prevent childhood obesity. The Ohmies models the importance of physical activity and engaging in healthy eating patterns as fundamental parts of daily life.
"These are incredibly exciting days for The Ohmies," says Seth A. Goldstein, Producer and General Manager. "Not only are we honored to be part of this beloved end-of-summer tradition for generations of British Columbians, I'm happy to announce that we're currently negotiating a television development deal with Canadian production house Shaftesbury and a major Canadian broadcaster."
"I hope everyone comes out to play with us at PNE," Goldstein continued. "We created The Ohmies to be fun, energetic, entertaining, colorful and engaging even as they help communicate health and wellness information to kids. We worked with a panel of 12 child development experts to make sure that the story of The Ohmies is something that is not only developmentally appropriate for our audience, but that delivers genuine enjoyment and value for both kids and the adults who care for and about them."
The Ohmies: Super Silly Sassy Frassy So Much Fun Together Tour is a highly interACTIVE story in which the audience sings, stretches, laughs and dances along to original music with their new BFFs: Bella Butterfly, Carlin Caterpillar, Daisy Dog, Gisbert Grasshopper and Sylvio Snake.
"Our theater audiences in New York City were tremendous," Goldstein said. "The enthusiasm on the faces of kids and adults, the reviews we received from everyone ranging from bloggers to the New York Times – it was all very exhilarating and incredibly gratifying. We are thrilled to be introducing this engaging and interactive show to the great audiences at the PNE Fair".
The annual Fair at the PNE is the province's best-attended ticketed event. Featuring hundreds of free-with-admission shows, exhibits and attractions, the 102-year-old Fair at the PNE is where British Columbia comes to celebrate.
For more information about The Ohmies, visit http://www.theohmies.com.
For information and tickets to the Fair to see the The Ohmies, visit: http://www.pne.ca
ABOUT THE OHMIES
The Ohmies is a fun and interactive worldwide family lifestyle brand that focuses on the physical health and overall well-being of children ages 3-6 and their families, engaging in early intervention and encouraging positive healthy habits for life. For complete information about The Ohmies, please visit http://www.theohmies.com
ABOUT PNE
Owned by the City of Vancouver, the Pacific National Exhibition (PNE) is a healthy and vibrant non-profit charity organization dedicated to providing over 3 million visitors a year with first-class cultural, sporting and family entertainment events. Founded in 1910, the PNE operates from a 114-acre site at Hastings Park, a multi-facility venue in Vancouver where the organization operates four activity streams: an annual 17-day Fair, Playland Amusement Park, maintenance and care of the Hastings Park site and management of the site's year-round facilities. These facilities are utilized to celebrate a variety of hockey, amateur sporting, music, community, social, cultural and commercial events throughout the year.