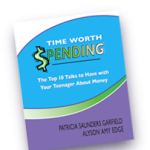 "The financial landscape is getting more complex," explains co-author Patricia Garfield.
La Canada, CA (PRWEB) October 04, 2012
"Time Worth Spending" covers the basics of financial literacy, from credit cards and banking to budgeting, saving, paying for college, and more.
The statistics are surprising: 25- to 34-year-olds are the second most common group in the U.S. to file for bankruptcy. Why are younger adults getting into such deep financial trouble? One reason is that they are not financially literate. Many public high schools axed these types of courses due to budget constraints, and many parents don't think (or know how) to teach their teens about money management before they leave home. Time Worth Spending, a financial literacy book written by high school teachers Patricia Garfield and Alyson Amy Edge, aims to help teens avoid later financial problems by learning the basics of money management now.
"The financial landscape is getting more complex," explains co-author Patricia Garfield. "Understanding money, debt, investing and so forth is vital throughout life."
Based on the authors' extensive experience teaching high school financial literacy classes, Time Worth Spending is designed to make it easy for parents to explore money-related topics with their teens. Rather than simply telling parents that they should discuss a particular subject with their teens, the book provides a structure and framework for those conversations. Broken into 10 easy-to-understand chapters, Time Worth Spending includes real-life stories to drive home the points being made, and specific activities for parents and teens to do together.
Details about the book can be found at the authors' recently-launched website, http://www.GuidetoFinancialLiteracy.com. The site includes excerpts from each chapter, a financial literacy blog, information about the authors' upcoming events and more.
Topics covered in Time Worth Spending include:

Banking
Handling money in social situations
Credit cards
Paying for college
Researching and preparing for careers
Budgeting
Cars
Taxes
Saving and investing
"Every day in our classrooms, we see that teens are eager to learn about money," states co-author Alyson Amy Edge. "This book helps parents send their teens off into the world prepared to make good decisions. An added bonus is that Time Worth Spending can act as a very positive 'conversation starter' at an age when parent/child communication can be quite challenging."
Time Worth Spending can be purchased at Amazon.com.