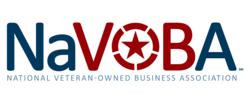 " The corporations that earn a spot on this list are the best in the U.S. at recognizing how well the military prepares business leaders through teaching leadership, teamwork, resolve, integrity and ingenuity," said Chris Hale, NaVOBA President
Pittsburgh, PA (PRWEB) March 28, 2012
The National Veteran-Owned Business Association (NaVOBA) announced its annual list honoring the 10 Best U.S. corporations open to working with veteran-owned businesses for 2012 today. The prestigious list honors the large corporations that most successfully engage the nation's three million veteran-owned businesses (VOBs) as suppliers. The list can be accessed here: http://www.navoba.com
The cover story of the April 2012 issue of NaVOBA's Vetrepreneur magazine will feature this year's 10 top honorees. The firms earning this year's distinction include Booz Allen Hamilton, Comcast Corporation, DynCorp International, Johnson & Johnson, Life Technologies, Lockheed Martin, Mack Trucks, Inc., Novartis Pharmaceuticals Corporation, Rockwell Collins, Inc., and SAIC.
"The strength of our supplier diversity program is dependent upon developing and sustaining relationships with diverse suppliers, including veteran-owned businesses," said Peter Kiriacoulacos, Chief Procurement Officer, Comcast and NBCUniversal. "At Comcast and NBCUniversal, our supplier diversity program is committed to engaging veteran, disabled veteran, women, minority-owned and HUBZone Small Businesses. Through these relationships, we develop reliable resources, create jobs, strengthen our purchasing power, and build value for our shareholders."
Through NaVOBA's untiring efforts since 2007 the number of FORTUNE 1000 companies seeking veteran-owned suppliers has grown by more than 60 percent. Currently more than 160 of the world's largest companies maintain programs designed to use VOBs as preferred vendors in their supplier diversity efforts.
"The Top 10 corporations that earn a spot on this exclusive list are the best in the U.S. at recognizing how well the military prepares business leaders through teaching leadership, teamwork, resolve, integrity and ingenuity," said NaVOBA President Chris Hale. "In a tough economy corporate America is eager to partner with business leaders who embody those intangibles combined with exemplary skills and the dedication needed to contribute to overall economic success. We're delighted to highlight and honor them."
The notion that military training is world-class preparation for running a business is reinforced by the fact that one out of every seven veterans in the U.S. owns a business, according to Census data. That's twice the national average.
About The National Veteran Owned Business Association (NaVOBA)
NaVOBA unites the nation's 3 million businesses owned by military veterans by providing a single voice to advocate for important issues.
For more information visit us on the web at http://www.navoba.com, or follow us on FaceBook at http://www.facebook.com/navoba and on Twitter @navoba.
Contact: BP Media Relations for NaVOBA
Barbara Pflughaupt – 212-707-8181
Judee Cohen – 917-721-0663
###