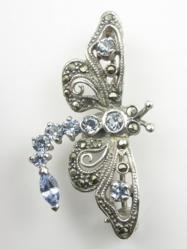 As Topazery Jewelry reviews its first 10 years, it's hard to believe the website had a total of just three pages in its infancy: Home, About and Jewelry. Today we're one of the premier online shopping sites for vintage and antique rings.
Atlanta, GA (PRWEB) June 07, 2012
The tenth anniversary of Topazery Jewelry has prompted the online jewelry boutique to review its accomplishments over the past ten years of selling vintage and antique jewelry on the web. That retrospective reveals the company's humble beginnings, its first celebrity customer, a major relocation, a TV spotlight, several expansions in antique style jewelry offerings and rolling with the punches as the World Wide Web changed and evolved.
When Topazery first opened its doors in 2001, the company operated out of an antiques mall in Charlotte, N.C. Back then, its focus was on antique furnishings and accessories, with only a small selection of jewelry comprising its inventory. In October 2002, Topazery founder, Jan Walden, decided to take her antique concept to the then still-in-its-infancy web and shift the focus to jewelry. That move was a calculated risk, with the notion of doing business entirely online still a novel and unproven model. "When we began selling online, Etsy.com didn't exist and Amazon.com (the largest online retailer in the world) had just announced its first profitable year," Walden explains.
With a starting budget of less than $1,000, Topazery.com debuted with a mere five antique and vintage rings up for sale. "As Topazery Jewelry reviews its first 10 years, it's hard to believe the website had a total of just three pages in its infancy: Home, About and Jewelry," Walden reminisces. Despite its Spartan ambience, however, the site's sought-after antique jewelry offerings quickly attracted an audience. In fact, the first person to purchase a piece from the company's online inventory was an acclaimed NBC news correspondent.
From there, business took off, prompting Walden in 2005 to pack up and relocate Topazery Jewelry's headquarters from Charlotte to Atlanta. "That year we expanded our jewelry offerings and added a special selection of new antique style jewelry from several designers."
That wouldn't be the first time the company would take its focus in a new direction. In 2007, Topazery stopped offering jewelry designed by others and began focusing on its own line: The Topazery Collection. That same year, a Victorian style sapphire and diamond ring from Topazery was chosen for NBC's hit drama TV series, "Crossing Jordan." Airing in February 2007, the episode, which was titled "Mr. Little and Mr. Big," prominently featured an elegant sapphire and diamond ring from Topazery Jewelry as part of its storyline.
Today, Topazery Jewelry is still a small online boutique with the same personalized attention to detail it provided in 2002. In the 10 years since then, however, the company's professional team has expanded to include master jewelers, appraisers, gemologists, a writer, a webmaster and a photographer. In that respect, Topazery fully leverages all the benefits an online working environment affords.
"Because we all work out of our homes or private offices, I've been able to bring in the best professionals from all over the country without requiring them to uproot and move to Atlanta. I also don't have to maintain a brick-and-mortar shop and wrestle with all the extra tasks that entails," Walden relates.
Its online presence also allows Topazery Jewelry to put a full library of educational pages at its customers' fingertips. As a result, they can learn about antique jewelry, diamonds and gemstones without ever leaving the comfort of their own homes. That educational focus is paying off for the company. And with its antique and vintage jewelry pieces ranging in price from under $100 to $15,000, everyone can find something special to fit their budget.
For more of the insider scoop as Topazery Jewelry reviews the past 10 years, contact Jan Walden at (678) 528-8901. To see the antique and vintage pieces that have drawn celebrity interest and led to a decade of jewelry-selling success, visit Topazery Jewelry online at http://www.topazery.com.