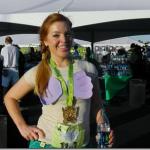 London, UK (PRWEB) December 22, 2012
While blogging has always been a popular activity in the health and fitness world, these days it seems like every one who made a trip to the gym in 2012 started up a blog. While topweightlossblogs.com naturally encourages all bloggers to share their experiences it has come up with a list of the very best blogs to mark the end of 2012.
They are in no particular order and include:
Run Eat Repeat
Run Eat Repeat is one of the best weight loss blogs of the year. Run by Monica Olivas the red headed Mexican girl from California it is all about running and healthy eating as a way of losing weight. It is not about dieting and there is no mention of the D word on the site. The blog has won numerous awards and is a light-hearted while at the same time informative blog about the benefits of running for weight loss.
There are loads of great recipes and plenty of advice about running and training. Monica is a regular half and full marathon runner but there is plenty of advice for beginners and the Couch to 5k program is a great place to start.
The Amazing Adventures of Diet Girl
This blog is one that should be able to inspire anyone that wants to lose weight. Started in 2001 it is the amazing story of Shauna Reid who went from weighing more than 350 pounds to less than half that in 6 years. This is another blog that takes a diet free approach to living healthily and losing weight and is a must read for anyone. The blog details Shauna's unique approach to weight loss and there is now a book that has recently been published to go with it.
Fit to the Finish
This blog documents the remarkable story of Diane Carbonell. A mother of seven children Diane was morbidly obese and weighed more than 300 pounds. The blog shows how she took charge of her health and her life and managed to lose 150 safely and healthily. The blog is full of useful ideas on tips for weight loss, exercise, healthy eating and how to maintain weight loss.
About Topweightlossblogs.com
http://www.topweightlossblogs.com is naturally a guide to the top weight loss blogs on the net for keeping fit and losing weight. It is also a fantastic source of information on all aspects of health and fitness and helping people to get back in shape.