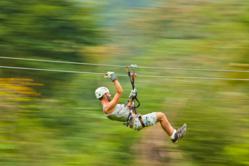 Belize (on shore and off shore) is an incredible destination. Without hesitation, we would return to see more of this beautiful nation. Brent, Kim, Emmet & Avery Lakeman, Edmonton, Alberta
Dangriga, Belize (PRWEB) December 13, 2012
The year 2013 marks the dawn of a new Mayan era, and Island Expeditions is celebrating with the launch of a new Mayan Belize vacation. The Rainforest Canopy Extension is a three day zipline, hiking and waterfall Belize adventure into the remote Mayan rainforests. On this all-inclusive vacation package, guests stay at a true jungle eco-lodge and explore the spectacular, lesser-traveled wilderness of the Bocawina Rainforest Reserve.
The Rainforest Canopy Extension travels completely off the grid to Mama Noots Eco-Lodge, a comfortable jungle hideaway within the 7000 acre Bocawina Mayflower National Park. Home to abundant wildlife, guests share this untouched rainforest with howler monkeys, ocelot, coati and paca - and experience the fascinating, melodic cacophony of close to 200 species of tropical birds.
This Belize vacation package includes a journey through the rainforest canopy on Belize's longest zipline, and a guided hike through the surrounding jungle to unexcavated Mayan ruins. This Belize adventure also allows lots of free time to explore nearby waterfalls, forest trails and Mayan ruins, with optional rapelling tours available to Antelope or Big Falls.
On this three day extension, Island Expeditions shows trip participants the area's highlights, then gives guests plenty of unstructured time to experience the magic of Bocawina! The 'Rainforest Canopy' combines easily with two popular Island Expeditions trips that end in Dangriga - Paradise Islands and Glover's Reef and River of Caves.
Visit http://www.islandexpeditions.com for the detailed trip information. The Rainforest Canopy Extension adventure package costs $539 and includes meals, transfers and accommodations, as well as a full zipline tour, a guided rainforest hike, and professional guiding services. Current trip specials include ten percent off the Rainforest Canopy Extension when booked in conjunction with another Island Expeditions trip by December 21, 2012 ( the day in the Mayan Long Count Calendar when the world is renewed).
About Island Expeditions - Leading the way to adventure for 27 years
Island Expeditions specializes in Belize and Yucatan adventure travel, offering small group trips to special places where few others travellers go...remote coral reefs, tropical rainforests and rich indigenous cultures. Trips provide skilled instruction in outdoor activities, as well as fun, learning and genuine interaction with the local people. No experience is necessary and trips are suitable for all levels. Island Expeditions is committed to responsible tourism, conservation and local education, supporting the Belize Zoo, Belize Audubon Society and local conservation initiatives. For student groups, Island Expeditions has been offering specialized programs for high schools, colleges and universities for over 20 years.
National Geographic Adventure Magazine rated Island Expeditions as one of the 'Best Travel Companies on Earth'.
Trish Brown, Marketing & Media Relations
Tel: 1-800-667-1630 Fax: 604-894-2314
Email: trish(at)islandexpeditions(dot)com