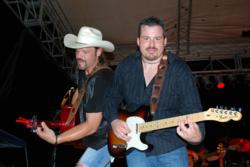 Dallas, Texas (PRWEB) May 13, 2012
Global Maximus Announces Recording Artists 'BadHorse' performed last evening in front of a packed house in Dallas, Texas. The emerging new stars were performing at the request of the Equest Therapeutic Horsemanship program.
'BadHorse' for this event turned 'Good Horse' providing entertainment to the house of A-list supporters of the Equest Therapy program which provides therapeutic care for an array of clients using equestrian techniques to bring comfort to these special clients. The program provided by Equest is having great success providing specialized therapy to those who find the experience of being around horses as therapeutic.
The Triple Crown Gala was organized by Chairman - Jocelyn White Honorary Co-Chairs - Louise Griffeth and Linda Perryman Evans. The event was Texas tux and cocktail attire with the blaze of glory being the celebration of the success of the program and in honor of its wonderful supporters.
Global Maximus supports the program and encourages others to research the program. If someone you know has special needs and has a love for horsemanship, please reach out to their highly trained staff for more information, http://www.equest.org
The website offers all the information regarding questions someone may have and more information surrounding the Triple Crown Gala. One thing is for sure, 'BadHorse' from the start lit up the place with their southern sounds and energy making the event come to life, the meaning of the program.