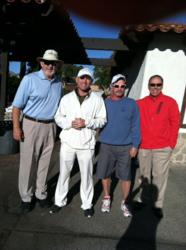 "Winning the 'What's Your Major" contest is a win for Randy and a win for Autism," Pelz said.
Tucson, Arizona (PRWEB) April 24, 2012
The Tucson Autism Community Center (TACC) is hosting the 2012 Autism Charity Golf Classic at the Tubac Golf Resort and Spa on Saturday, May 5, 2012. Proceeds will benefit Tucson Alliance for Autism, (TAFA).
This year Rodney Peete, NFL quarterback and author, will be back for his second year in a row with his son R.J. "I was very excited to be a part of the TACC Golf Tournament last year and was impressed with the hospitality I received at the Tubac Golf Resort & Spa," Peete said. "TAFA is doing incredible work and I have vowed to return whenever I'm available." Peete, a native of Tucson, is the author of "Not My Boy! A Father, a Son, and One Family's Journey with Autism." The story, based on the Peete family's experience raising a child with autism, is receiving wide acclaim. Through the book Peete describes the journey from a father's perspective – a perspective that is often overlooked.
Another father/son team competing this year is Randy Blunt and his son Tyler. "Last year's event was an amazing two days for me and my son, Tyler," Blunt said. "We took the third place trophy. His presence at the tournament last year was an inspiration to everyone, especially me." So when Blunt saw the chance to win private lessons with short game legend Dave Pelz by entering the 'What's Your Major' contest sponsored by Golf Magazine he knew the Autism Charity Classic would be the perfect major to share his compelling story. Blunt submitted his essay describing why the Autism Charity Classic met so much to him and his son. Hundreds of essays were received, Blunt won! His prize included a set of Callaway golf clubs, a backyard putting green from SYNLawn Golf and private lessons from short game legend Dave Pelz at the Tubac Golf Resort & Spa. This was a big win for Blunt, for Tyler, and for Autism. "Tyler will be my 'caddy' for many years to come. We're going after the top prize this year," Blunt said.
Ron and Angela Canale, co-founders of both the TACC and TAFA, have a beautiful 14 year old daughter who was diagnosed with autism at the age of 3-1/2. They helped create TACC and TAFA as a result of the many challenges they faced when trying to obtain information about services available in the Tucson community for those affected by autism.
Ron, a TACC board member, organizes the Autism Charity Classic Golf Tournament every year. "The goal of this tournament is to raise money to help families and children who are affected by autism," Canale said. "Just as important is to raise awareness. That is why we get so excited when people like Rodney Peete, Dave Pelz and Randy Blunt get involved, because they help bring attention about autism to the forefront."
The CDC estimates that 1 in 88 children have been identified with autism spectrum disorder (ASD) and that ASD's are almost 5 times more common among boys (1 in 54) than among girls (1-252). Autism can be difficult to detect and diagnose. Research shows that the earlier a child is identified, the more interventions such as speech therapy and behavioral training are likely to help.
The Autism Charity Classic Golf Tournament is held every year at the Tubac Golf Resort and Spa, known for its friendly hospitality, luxurious Hacienda style and 27-hole championship golf course made famous by the movie Tin Cup. The Tin Cup Hole, #4 Rancho, remains one of the most famous in golf. The resort is located just 35 minutes outside of Tucson, Arizona at 65 Avenida de Otero, Tubac, AZ 85646. For more information about the resort, visit http://www.TubacGolfResort.com or call 800.848.7893.