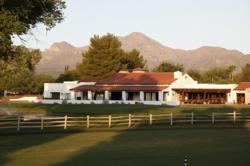 "Beyond the excellent instruction you will receive at Tubac Golf School you will have a great time," Dennis Palmer VP of Golf Operations said. "Last year several who attended golf school brought their spouses making it a great three-day getaway."
Tubac, AZ (PRWEB) September 26, 2012
The Tubac Golf Resort & Spa, an internationally acclaimed golf destination in Southern Arizona, announced that its 4th annual golf school will be held October 28 through October 31, 2012. During this three day golf event, experienced instructors will provide golfers of all levels and abilities the opportunity to improve their understanding, knowledge, mechanics and techniques in order to perform a better and more repeatable golf swing for a more enjoyable golf experience.
This year's Tubac Golf School will feature top instructing professionals Dan Kauffmann, Ben Moennig and Joel Jaress leading three days of golf instruction covering all aspects of the game from tee to green, including individual computerized swing analysis with CD. Opening night features introductions, welcoming and a buffet dinner. Day one of school includes a delicious breakfast, mid-morning break and lunch. Day one focuses on the fundamentals, grip, stance, posture and alignment with instruction on short and mid irons, long irons, fairway woods and pitching. Day two includes instruction on bunker shots, driving, putting, video/range work and chipping. Day three presents practice, video and range work culminating in the always fun 9-hole tournament where golf students can take everything they've just learned to the course. The day wraps up with a cocktail reception and awards banquet overlooking the island green.
Instructor Dan Kauffman attended San Diego Golf Academy where he honed his teaching and playing skills under renowned instructor Dean Reinmuth. He has been a PGA member since 1986 and was Director of Instruction at Little Lake golf facility in St. Louis for 10 years. Dan has taught at public, private, military and resort courses, and is currently a teaching professional at Tubac Golf Resort & Spa.
Instructor Ben Moennig, Head Golf Professional at Tubac Golf Resort & Spa, learned the game of golf and golf instruction from his close friend, former PGA Tour professional and two-time All-America at the University of Arizona, Larry Silviera. He is committed to growing the game of golf through helping individuals to better understand the game and the golf swing.
Joel Jaress, Assistant Golf Professional at Quail Creek Country Club became a full member of the PGA in 1996. Joel understands not only the fine details of the golf swing, but the competitive side of the mental aspect of golf. Joel's teaching skills have been developed over thousands of golf lessons to all ages and skill levels at public, private and resort courses.
The Tubac Golf Resort & Spa's golf school includes three nights in a luxurious hacienda suite, three days of instruction, video swing analysis, green fees, cart fees, opening night dinner, breakfasts, lunches, refreshments, golf tournament, prizes, and closing awards banquet. Cost per student: Single Occupancy, $1200; Double Occupancy, $1900 and Commuter Rate, $700.
The Tubac Golf Resort, developed originally by a partnership group, including legend Bing Crosby, was expanded and renovated in 2002 creating a beautiful destination resort that offers luxurious amenities including a 27-hole championship golf course, a destination spa, a signature restaurant, a 17th century mission replica, a swimming pool, tennis, and state-of-the-art conference facilities all within one mile of the artists village of Tubac featuring over 100 shops and galleries. The resort is located at 65 Avenida de Otero, Tubac, AZ. 85646.
For more information and to register for Tubac Golf School call Director of Golf, Dennis Palmer at 520.398.2021 or email dpalmer (at) tubacgolfresort (dot) com.