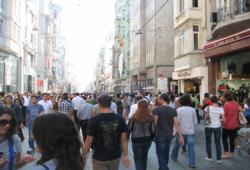 Property prices in Turkey have continued to rise this year even when most countries in the EU have seen a slump.
(PRWEB UK) 23 October 2012
Loxley McKenzie, Managing Director of Colordarcy comments, "After a disappointing summer in the UK, the weather is not the only thing that is hot about Istanbul at the moment. In my experience one of the best things about investing in property is that no matter what is happening in one part of the world, investors can always look to somewhere where they can enjoy a different season.
Property prices in Turkey have continued to rise this year even when most countries in the EU have seen a slump."
Analysts at Colordarcy.com are keen to point out that the property market in Turkey is hot in investment terms. When it comes to the property investment cycle, cities like Istanbul are still enjoying their summer while much of the EU is still stuck in the winter.
McKenzie added "Dare we say that the Istanbul property market is booming at the moment? We don't hear the word boom so much these days as it suggests a bubble is forming, yet that is not the impression investors are likely to get when visiting Istanbul.
Yes it is true that there is a lot of building activity as developers try to keep up with exceptional demand. However a great deal of this new demand has come as a result of the country opening its doors to Gulf investors by easing restrictions on investment. There is no sign yet that their appetite for Turkish property is satisfied."
Many of the developers building new apartments in Istanbul are no doubt encouraged by the most recent Knight Frank Global House Price Index which put Turkey property prices as the third fastest growing in the world this year.
They were beaten only by Brazil, which is undergoing its own economic miracle and Austria which has also seen some surprising surges in property prices according to research highlighted by Colordarcy.
Where Turkey is concerned the property market is supported by a growing economy and low prices in comparison to EU countries.
The average asking price for a luxury apartment in Istanbul for example has more than doubled in 7 years from £1,244 to £2,800 (Source: Gyoder). Yet this still compares well to prices in EU cities with prices still only a fifth of those you will see in London or Hong Kong.
So while property markets in the Europe continue to be held back by a lack of available finance, shrinking job markets and low consumer confidence, it is good to know that investors can still escape to Istanbul for a decent summer.
Notes to the editor:
Colordarcy is a leading property investment company that specialises in finding positive cash flow investment properties worldwide. Colordarcy investment property portfolio includes some of the best properties for sale in Brazil, Florida, Turkey and the United Kingdom.
For more information, supporting pictures or logo artwork, please contact:
Brett Tudor
PR Manager
Tel: +44 (0) 207 100 2393
Email: press(at)colordarcy(dot)com
Web: http://www.colordarcy.com/