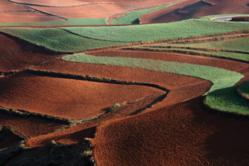 Globally there is enough to go round and if (a big if) we make the right decisions now, we can continue to feed the world despite population growth and climate change
Washington DC (PRWEB) August 10, 2012
The Security and Sustainability Forum announces the second session in the Urbanization series, "Food Security in an Urbanizing World" will take place on September 5.
Highlighting food security challenges due to current food system shortcomings and the added pressure of a growing population, the session will cover a range of academic thought and development practices. Experts will offer a broad picture of food security issues applicable to both ends of the development spectrum. From livestock pathology to urban food deserts, the discussion will cover economic, health, and equity issues relating to food production and distribution. In addition to outlining the challenges, "Food Security in an Urbanizing World" will showcase existing work in this field and present overarching research questions on the effects of climate change that are of particular concern to cities and food security.
Register to attend the webinar, September 5 from 1:15-2:45 EDT, and learn from:

Dr. Charles Godfray, Oxford's Hope Professor of Zoology and Director of the Martin Programme on the Future of Food, was a Lead Expert in the UK Government Office for Science's "The Future of Farming: Challenges and Choices for Global Sustainability" project
Dr. Alan Kelly, professor and dean emeritus of the University of Pennsylvania's School of Veterinary Medicine, co-edited of "Food Security in a Global Economy," a volume about public health and veterinary medicine and public health which asks "Is it possible to feed a burgeoning world population while respecting the welfare of livestock and poultry, containing the spread of disease, and managing the Earth's natural resources?"
Ed Keturakis, an Abt senior agribusiness specialist and agricultural consultant to USAID, has experience developing projects in over 10 countries, including agribusiness value chain development, post conflict agricultural recovery, and agribusiness and food processing development.
About the Security and Sustainability Forum
SSF is a public interest, membership organization that hosts free, live educational webinars. Sessions feature panels of global experts who address human health and welfare impacts caused by climate change and other environmental disruptions. The webinars outline how sustainable approaches to minimize environmental stresses can reduce instability and conflicts, thereby improving the physical and economic security of humankind. Our programs seek to not only educate our audience about sustainability and how it fits into their areas of interest and work, but also spark new ideas about resilient approaches and solutions.
Access to SSF's webinar archive is offered through a free membership program.