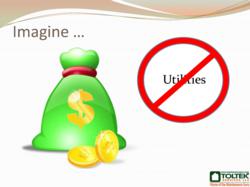 The cost savings can be so significant that many people reduce their energy consumption by 30% of more.
Jacksonville, FL (PRWEB) February 29, 2012
Toltek Services LLC's Maintenance Guru takes a que from the Shell Answer Man from the 1970s and provides tips to saving energy. Through TV commercials in the 1950s, many Americans learned how to stretch more miles out of a tank of gas. Those lessons have been passed down to generations of drivers. Now, Toltek Services, LLC's Maintenance Guru offers advice to help the world get the most from each kilowatt hour of electricity.
Thermostat Control: Turn thermostats down in the winter and up in the summer when nobody is home. There is no need to fully heat or cool unoccupied spaces. Programmable thermostats can be purchased for under $50. Individuals are then able to customize room temperatures based on occupancy. The cost savings can be so significant that many people reduce their energy consumption by 30% or more. Always keep enough heat that pipes don't freeze inside and that your pets do not suffer.
Filter Changes: Change filters regularly, some have to change them monthly in areas with construction, dust, wind, and pets that shed. Others can get up to three months from a single filter.
Water Heater: Water heaters should be turned off when people go on vacation and do not need hot water. Think of leaving a 50 gallon pot of water on the stove 24 hours a day, seven days a week. Home center stores now carry timers so people can have hot water in the morning and evenings when needed and conserve the energy during the day and night when no hot water is used.
Washing Machine: Only run full loads of clothes. The savings are both in electricity and in soap, softener, and other laundry additives.
Clothes Dryers: Clean lint traps after every load and remove the dryer hose at least once each year to check for lint build-up. New dryer hoses cost about $15 and are much cheaper than experiencing a home fire because of a plugged dryer hose.
Dish Washer: Only run the dish washer when it is full for the same reasons as stated above concerning washing machines.
Ceiling Fans: Ceiling fans neither heat nor cool spaces. They simply move air around to give the skin a sensation of cooling. Heat rises and cool air drops, ceiling fans are a great way to circulate air and keep a room at a constant temperature from the floor to the ceiling. Turn ceiling fans off when the room is not occupied.
Lighting: Replace incandescent light bulbs with the new energy efficient bulbs.
Set Goals: This tip could be the best tip of all because everyone in the family or office can make a difference. Review the March 2011 utility bill and determine the kilowatt hours paid. Next, determine a reasonable reduction goal; the Maintenance Guru suggests starting out with 5% because most homes and offices can reach the 5% goal. Getting families members and co-workers involved helps to obtain the goal. A weekly discussion about steps everyone has taken to help achieve the goal is helpful in keeping the awareness level high. Goal setting along with follow-up discussions reinforce lessons learn. These lessons will be passed down from generation to generation just like the vehicle and gasoline lessons learned from the Shell Answer Man over 30 years ago.
Get the full money saving preventive maintenance program from The Maintenance Guru for only $3.99 per year. The program also comes with a 100% money back guarantee so there is nothing to lose except high maintenance costs, high utility costs, and high replacement costs. Enjoy a home or office that is more efficient and maintenance free by subscribing at http://www.maintenanceguru.com
###