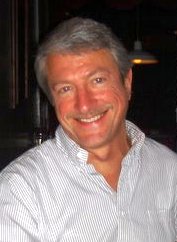 It is hard to believe it has been 20 years! Now Victory of Light is one of the best metaphysical events in the Country. Thanks for all you do!!!
Cincinnati, Ohio (PRWEB) October 23, 2012
The Victory of Light Expo, which celebrates its 20th anniversary this year, is one of the largest and longest-running metaphysical conventions for the general public in the country. Established in 1992 by psychic medium Victor Paruta, the 40th Victory of Light Expo takes place Saturday, November 17 and Sunday, November 18 from 10:00 am – 7:00 pm at the Sharonville Convention Center. The Expo features 60 seminars on the intuitive arts – from astrology and mediumship to UFO's and Holistic Healing. FREE readings are offered in nine seminars, including Paruta's popular "Ask a Psychic" session on Sunday at 2:00 p.m. More than 200 exhibitors offer psychic readings, healings, and merchandise for body, mind and spirit, including, gemstone jewelry, crystals, books, art, fashion and wellness products such as aromatherapy oils and infra-red saunas. Live music and dance performances take place throughout the weekend along with face painting and airbrush and henna tattoos for kids of all ages. Admission is $14 for one day or $20 for both days. Seniors (age 60 +) and students (with ID) receive a $2 discount. Parking is free. Complete details are available at http://www.VictoryofLight.com.
Making their first appearance at the Victory of Light Expo are authors Andrew Harvey, whose most recent books are The Hope – A Guide to Sacred Activism and Radical Passion – Sacred Love and Wisdom in Action, and Sunny Dawn Johnston, author of Invoking the Archangels – A Nine-Step Process to Heal Your Body, Mind and Soul.
"This Victory of Light Expo includes some of the most inspirational presenters we've ever featured," comments Paruta. "Mystic Andrew Harvey, Angel Expert Sunny Dawn Johnston, Mother-Son Paranormal Investigators Deb and Nick Lanz, and Near Death Survivor David Bennett are among those who will share their personal stories of transformational experiences. Affordable and fun, the Expo provides the perfect opportunity to experience today's most compelling spiritual trends such as mediumship and the paranormal. The atmosphere is family-friendly and always exciting," adds Paruta, whose work has been instrumental in introducing the region to new age, metaphysical, and holistic health experts and topics for more than twenty years. Watch an interview with Paruta on YouTube.
Featured Presenters
Andrew Harvey is a renowned and distinguished mystical scholar, poet, novelist, spiritual teacher and award-winning author. A true visionary, Harvey will co-present "Animals and Spirituality: Sacred Animals and Animal Guides" with Dr. Linda Bender, founder of Mind the Gap Wellness Center, on Saturday, November 17, at 1:00 p.m. On Sunday at 1:00 p.m., Harvey will present "Enlightened Masters of the Far East: My Mystic Journey," taking listeners on his 30-year exploration of mystical traditions from gurus in India to his personal friendship with His Holiness The Dalai Lama.
A charismatic presenter, Sunny Dawn Johnston presents "Invoking Love, Light & Joy Through Your Angels & Guides" on Saturday at 12:00 noon. An internationally recognized psychic medium and spiritual teacher, Johnston will use her own inspirational life story to teach how to move from fear to joy. On Sunday, she will present "Invoking the Archangels – To Heal Your Body, Mind & Soul," a 2-hour seminar based on her new best-selling book. Johnston will also hold "Gallery Readings for the Audience" from 3:00 - 5:00 p.m. on Saturday ($20.00 additional cost).
Featured New Seminars
"Smudging – How to Clear Yourself, Others and Places Using Sage, Cedar or Sweetgrass" will explore the ancient practice of cleansing negative energies from people and places. Learn how to conduct a Smudging Ceremony on Saturday at 11:00 a.m.
Exploring past lives is a favorite topic at Victory of Light, and Sunday at 3:00 p.m. psychics and paranormal investigators Deb Lanz and her son Nick will present "Past Lives: The Reincarnation of a Confederate Soldier," which details Nick's spontaneous and powerful recollection of his past life in the Civil War.
Several guided meditations will take place throughout the weekend to enhance healing and intuition.
Paranormal topics include UFO's, Tools and Techniques of Paranormal Investigation, Local Bigfoot and other Strange Creature Sightings, Dealing with Ghosts: An Enlightened Approach and Regional Stories of Contact with Ghosts and Spirits.
Other Highlights…
Two alternative Sunday Services will take place at 11:00 a.m. on November 18 – a Spiritualist Sunday Service and a Divinity Spiritual Inter-Faith Service, both with spirit messages for members of the audience. In addition, Tibetan Monks from Cincinnati's GSL Monastery will present a Tibetan Buddhist Healing Ceremony both days at 11:00 a.m.
The Victory of Light Expo offers a variety of readings and readers, including psychics, clairvoyants, mediums, animal communicators, past life readers, spirit artists, a forensic profiler, tarot readers, numerologists, medical intuitives, palm readers, hand writing analysts and astrologers. Personal readings are available with prices ranging from $20 - $40 per reading. The complete seminar schedule can be downloaded from the website.
Victor Paruta
A highly sought after and respected psychic reader and spiritual consultant, Victor Paruta was voted "Best Psychic" by Cincinnati Magazine in 2005 for his "mysteriously accurate and compelling readings." He is a regular guest on radio and television, including ABC's "The View," and is featured in dozens of articles and publications. Paruta serves on the faculty of Baker Hunt Art & Cultural Center in Covington, Kentucky, where he teaches classes in psychic and intuitive development. He also serves as a medium with Project Paranormal, a high level paranormal investigation and research team serving Ohio, Indiana and Kentucky. He produced the first Victory of Light Psychic Festival in Cincinnati in 1992. ###