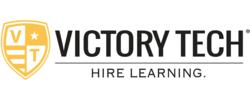 "We have been working closely with local energy and manufacturing business leaders for months now and they are excited about our approach to training STEM (Science, Technology, Engineering and Math) workers for their companies," said Daniel Nichols
Pittsburgh, PA (PRWEB) October 19, 2012
Victory Tech announces that its grand opening will be held on Monday, November 12 at 10:30 am at its new learning studio in Coraopolis, Pa., near Pittsburgh. Business leaders, elected officials, prospective students, education partners and media will be on board for the grand opening. Admission to the grand opening is by invitation only. Anyone wishing to come who has not already received an invitation may request one at http://www.victorytechinstitute.com/opening. The grand opening will feature learning demonstrations, job matching, a learning studio tour and a ribbon-cutting ceremony.
"We have been working closely with local energy and manufacturing business leaders for months now and they are excited about our approach to training STEM (Science, Technology, Engineering and Math) workers for their companies," said Daniel Nichols, Victory Tech's president. Nichols comes to Victory Tech after founding the highly successful Military to Medicine workforce development program at Inova healthcare system. He also served as chief of staff for the U.S. Assistant Secretary of Labor.
The highly anticipated opening follows much buzz about the school, which prefers to call itself an 'advanced technical institute.' "Victory Tech is very different from traditional universities, trade schools, community colleges and unions. Our purely 'job-oriented' curriculum, our hands-on approach to working with employers, our efficient way to deliver an education and our emphasis on veterans makes us a very unique and very necessary addition to the education offerings in this country and in this region," said Nichols.
"Our economy faces a stubbornly high unemployment rate. At the same time, companies are telling us that they cannot grow because they cannot find qualified workers. Clearly, the country faces a skills gap," said Chris Hale, chairman of Victory Media, parent company of Victory Tech. "Victory Tech fills that void in the education system with a unique curriculum that rapidly employs people in high-demand STEM occupations."
"Employers have told us they need higher quality workers. They need machinists, electrical workers and technicians who understand the science behind what they're doing," said Nichols. "As a result, Victory Tech has high academic standards, immediate academic remediation and a minimum of two years work experience."
Even the school's learning studio concept is innovative. "Instead of investing huge sums in labs or workshops, we will be working with local employers to utilize their equipment, and getting work done for them at the same time. Our efficiencies keep costs down for students and employers," said Dr. Stephen Kilpatrick, Victory Tech's academic director. "We are also talking to local universities to feed them students who desire a four-year technical degree."
The first classes are scheduled to start in January. Full programs will last 15 months but OJT, apprenticeships and shorter programs are also available. For more information or to request an invitation to the grand opening, go to http://www.victorytechinstitute.com/opening or call 412-424-0293. Seating is very limited.
###
For more information or to arrange interviews contact: BP Media Relations
Barbara Pflughaupt - 212-707-8181 or Judee Cohen - 917-721-0663