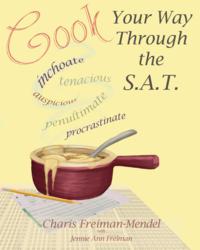 Help! I have a knack for cooking but I'm slightly video-challenged!
Wallingford, CT (PRWEB) January 31, 2012
Author Charis Freiman-Mendel invites innovative videographers to create a promotional video for "Cook Your Way Through The S.A.T." The book is a study guide and cookbook that helps students prepare for the SSAT, PSAT, SAT and other standardized tests given in middle school and high school. The book also appeals to parents, educators, chefs, word lovers, families looking for "quality time" activities and just about anyone who enjoys good food and great words.
"Cook Your Way Through The S.A.T." pairs each of 99 recipes with a "fun fact blurb," a short paragraph that tells an interesting fact about the recipe, such an ingredient or historical tidbit. Each blurb contains 10 words that commonly appear on all standardized tests given to teens and tweens. A vocabulary match test follows each blurb and students can check their work with the answer key for all 1000 words at the end of the book. "Cook Your Way Through The S.A.T". is a creative, project based teaching tool that makes learning fun.
Here are the contest rules:
Eligibility:
-The contest is open to all legal residents of our galaxy.
Learn:
-Explore http://www.SATgourmet to learn more about "Cook Your Way Through The S.A.T." The website has sample interior pages, a list of the 1000 vocabulary words from the book, reviews and press coverage.
-You can order a copy of the book through Amazon, other online booksellers or your local bookstore, but no purchase is necessary to enter the contest.
Register:
-Fill out your name and email address on the entry form in the video contest tab of the facebook fan page, "Cook Your Way Through The S.A.T."
Content:
-The submission cannot contain any material that would constitute a copyright infringement or be unlawful.
-The submission must be kind to others.
Submission Guidelines:
-The video cannot exceed one minute in length.
-The video must meet all You Tube submission guidelines.
-The video must be in English or with English subtitles.
-Email your video(s) to CookYourWayThroughTheSAT@gmail.com.
Timing:
-All videos must be received by March 5, 2012.
Winner:
-Five finalist videos will be selected by Charis based on their creativity, originality and ability to best promote the "learning is fun" message of her book, "Cook Your Way Through The S.A.T."
-The five videos will be posted on the SATgourmet you tube channel on March 12, 2012.
-The video most viewed by April 10, 2012 will be the first place winner.
-The winning video will remain on the SATgourmet you tube channel and will be used for promotion of "Cook Your Way Through The S.A.T."
-The four runner up videos will be removed from the SATgourmet channel on April 11, 2012.
Prizes:
-The first place winner will receive $250.
-Each of the four runners-up will have a recipe created in their honor.
For good cooking, fun facts, new vocabulary and information about improving standardized test performance, order "Cook Your Way Through The S.A.T." and follow Charis through her blog, facebook fan page and you tube channel. To feature Charis in your news media outlet, please contact her by email: Charis(at)SATgourmet(dot)com.
###