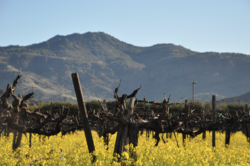 We are thrilled we can be the first 2012 vintage single vineyard, single sku, premium offering Sauvignon Blanc from Napa Valley to be released into the USA market.
Napa, California (PRWEB) February 14, 2013
Iconic Napa Valley producer Voss Vineyards has released their 2012 Sauvignon Blanc, providing the first look at premium, organically farmed, single vineyard Napa Sauvignon Blanc from the eagerly anticipated 2012 vintage.
Established in 1994, Voss Vineyards is a single sku offering, solely dedicated to the pursuit of producing the most elegant, pure and vibrant New World Sauvignon Blanc from the heart of the Napa Valley.
Chief Winemaker Mike Lancaster stated 'The 2012 growing season was beautifully moderate right through until harvest without heavy rain making it an ideal vintage. We picked the fruit at low sugar so it was off the vines by late August, retaining the natural acidity and fruit sweetness."
Built on the philosophy of sustainable and environmentally aware farming the Voss Vineyard, located in Oakville, was planted in 1978 and has been farmed organically since 1986. The vineyard's heavy clay soils respond extremely well to Sauvignon Blanc, producing grapes of intense perfume and crisp acidity whilst imparting a wonderful minerality into the wine.
The Voss Vineyards Sauvignon Blanc is a fresh, varietally vibrant style with minimal oak treatment making it perfect for early release. "By releasing this wonderful wine now we are able to allow people the enjoyment of drinking a fabulously crisp and lively wine resembling a Southern Hemisphere style whilst retaining all the classic cues of premium Napa Valley SB." Lancaster said.
"The 2012 vintage is being talked about as one of the great vintages, we are thrilled we can be the first 2012 vintage single vineyard, single sku, premium offering Sauvignon Blanc from Napa Valley to be released into the USA market."
The 2011 vintage received 90 Points from Wine Spectator and sold out quickly after release, Mike Lancaster is confident the 2012 will do the same "The 2012 displays pure varietal fruit forwardness with delightful texture and mouth feel whilst retaining the lively acidity."
"It's great to be single! Get us whilst we are still on the market!"
***********
FACT SHEET
Voss Vineyards
In 1994, Voss Vineyards was conceived and founded by Australian Robert Hill Smith, the fifth-generation proprietor of Yalumba Winery in Barossa Valley, as well as Nautilus Estate in Marlborough, New Zealand. With 160 years of Australian winemaking heritage and experience behind him, Hill Smith approaches wines in Australia, New Zealand and California with a focus on adventure, innovation and a strong respect for matching variety with terroir. With Sauvignon Blanc the priority is to craft wines that are pure and expressive.
Voss Vineyards is produced under the guidance of winemaker Mike Lancaster, who has a long association with the Napa and a love of Sauvignon Blanc. " I've crafted both the more tropical, ripe style and now have the opportunity, with Voss, to spend more time on a Southern Hemisphere sort of style - looking for lifted grass and gooseberry aromas, more citrus, bright acid."
From a region dominated by big, bold reds, Mike discovered a vineyard ideally suited to Sauvignon Blanc. The Morgan Lee Vineyard, planted in Oakville in 1978 lies on heavy clay soil producing Sauvignon Blanc grapes of intensely perfumed tropical and citrus fruits with crisp acidity. Voss Vineyards is focused solely on hand-crafting excellent, regionally expressive Sauvignon Blanc.
The first Voss Vineyards Sauvignon Blanc was made in 1994 and had an immediate impact on the US drinking public, many struggling to believe that it came from the Napa Valley. Robert's hunch was also quickly vindicated by the international critics when Voss Vineyards Sauvignon Blanc was named "Best Sauvignon Blanc in the World" at the 1998 London International Wine and Spirits Competition, as well as "Best of Show" at the World Wine Championships, Chicago.
This spirit of adventure and desire to accentuate purity of fruit and freshness in the wine was further reinforced when Voss became one of the first Napa Sauvignons to embrace the screwcap closure - from the 2005 vintage. Robert Hill Smith's experience with this closure in Australia from the 1970s (with Riesling) and New Zealand from the early 2000s (with Sauvignon Blanc) gave him the confidence to proceed.