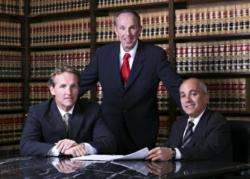 The time is now to get your Governor's Pardon.
Tustin, CA (PRWEB) December 28, 2012
According to CBS*, on Christmas Eve, Governor Jerry Brown granted 79 pardons to individuals previously convicted of a crime that have stayed out of trouble and made an effort to give back to the community. California criminal defense attorney Stephen D. Klarich, and the attorneys at Wallin & Klarich have been helping people for over 30 years to successfully seek governor pardons for prior criminal convictions.
"If you had any desire to clean up your criminal record or perhaps stop your obligation from registering as a sex offender, the time is now," said Stephen D. Klarich, attorney and partner at Wallin & Klarich. "Our previous Governor Schwarzenegger granted a total of 7 pardons in his entire tenure as governor. Governor Brown has already granted over 100 pardons, including the latest list just released by the Governor's office."
The 79 pardons granted in one day is a large increase from the amount of pardons that were previously granted under former Governor Schwarzenegger. The governor's office is still in the process of notifying those who were recently pardoned and it seems there may be more to come, as Governor Brown previously granted over 450 pardons when he was last governor.
A governor's pardon, under California Penal Code section 4852, provides individuals with freedom from many prior disabilities suffered due to having a felony conviction on record or the duty to register as a sex offender under California Penal Code section 290. Those issued a governor's pardon will now be able to obtain the type of good paying jobs they were previously banned from and will have the right to own a firearm.
"If you are tired of living in the shadow of your past, call us. The time has never been better," said Mr. Klarich.
###
At Wallin & Klarich, we never lose sight of our law firm's fundamental commitment to do all we can to help people who are facing legal problems. We believe that every person is entitled to the highest quality legal defense when they are facing the loss of their freedom. Wallin & Klarich has over 30 years of experience helping clients facing all types of criminal and family law matters in Orange, Los Angeles, Riverside, San Bernardino, San Diego and Ventura Counties.
*http://sacramento.cbslocal.com/2012/12/24/governor-pardons-79-ex-cons-on-christmas-eve/