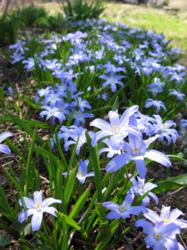 While waiting for the soil to warm up, there are ways to love up and clean up the garden.
Lebanon, Pa. (PRWEB) February 17, 2012
Gardens benefit from weekly, if not daily attention. After a few months of wintertime neglect, they always look a bit sad and disheveled. While waiting for the soil to warm up, here are a few ways to love up and clean up the garden. These ideas and more are featured in the "Garden Landscape Tips" section of http://www.preen.com

Now is the time to cut back any perennial beds that weren't tackled last fall. Use hedge shears to trim ornamental grasses to about 2 inches above the soil surface.
As temperatures rise, watch for new growth on shrubs and roses and remove any winter protection immediately. Clear fallen leaves away from areas where spring bulbs will emerge. Leave tender perennials mulched until new growth begins.
When forsythia shrubs are in full bloom, it's time to apply a garden weed preventer such as Preen around established shrubs and perennial gardens. Mustard, henbit, crabgrass and many other annual weeds start growing with the first hint of spring. An early application of Preen will save many hours of tedious weeding later.
Spring-flowering shrubs, such as azaleas, lilacs and mock orange, should not be pruned until after they have bloomed. The best time to prune them is 4 to 6 weeks after the flowers have faded. Don't wait too long. By mid-summer the plants will have already formed the buds for next spring's flowers.
Trees and shrubs may be fertilized once soil temperatures climb above 40 degrees. Sprinkle fertilizer beneath the branches, keeping it 4 to 6 inches away from the trunk or stems. For weed control that's effective up to 6 months, apply Preen Mulch Plus around trees, shrubs and other established ornamental plants.
Enjoy a plentiful supply of flowers for very little money by starting them from seed. Some flower seeds need a head start indoors, but many can be sown directly into the garden once the soil warms. Easy, fast-growing annuals include zinnias, sunflowers, marigolds, nasturtiums and bachelor buttons.
Some vegetables may be planted just as soon as the ground can be worked. Potatoes, spinach, broccoli, beets, carrots and salad greens will all tolerate cool soil and a light frost. Tent newly planted areas with garden fabric to shield young plants from wind and cold exposure. Once new plants are 2 to 3 inches tall and have true leaves, apply a corn gluten based weed preventer such as Preen's organic version to keep weeds from competing with the harvest to come.
Preen is the leading brand of garden weed preventers. Preen products don't kill weeds; they are weed preventers. They stop new weeds from sprouting.
###