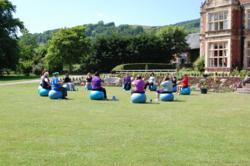 Weight Loss Retreat Based in Dorset, Somerset and Derbyshire
(PRWEB UK) 28 November 2012
FitFarms was the first weight loss retreat programme to open in the UK and has often been called the English version of the American Fat Camp.
Back in 2006 FitFarms established itself as a residential weight loss retreat providing a healthy nutrition programme, workshops providing mind change and an intense but manageable weight loss retreat fitness programme.
The first venue the FitFarms Fat Camp set up was in Devon between the lovely town of Tiverton and the steep hills of Exmoor National Park.
The geographical position is perfect for long walks and outside exercise programmes that are designed to burn calories whilst re-introducing exercise back in to the lives of the fitness retreats attendees. All the details on the different programmes can be viewed on their website http://www.fitfarms.co.uk/
The intense fitness programme is manageable though and the Managing Director Stephen Cole firmly says that there is no boot camp style approach to the weekly routine.
The fitness and weight loss retreat trainers are all extremely experienced with qualifications from Hula Hooping to Martial Arts and Circuit Training.
The company is really looking forward to inviting new and old guest to their Dorset weight loss camp. There are large indoor training areas, swimming pools and magnificent dining halls where guest will be following the nutrition programme. Please click here to see all the facilities.
The Dorset site is close to the station of Sherborne which is only two hours from London Waterloo. FitFarms will be running a pick up service from Sherborne station to the FitFarms fitness retreat which is included in the guest weekly price.
FitFarms does expect to be busy after the Christmas and New Year festive season with guest shedding those pounds and looking for a complete lifestyle transformation.
Most guest tend to book the February and March dates before the end of the year knowing that they miss out and have to wait for the Summer if the course books up quickly.
Booking can be made on the website or over the telephone. The first Dorset week is in May 2013.