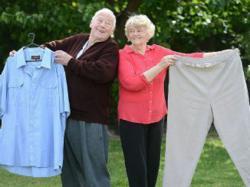 We were just two fatties
London, UK (PRWEB) November 21, 2012
Ray Woolridge and his girlfriend Valerie Johnson have amazed their friends and family by losing a combined total of 95kg in less than a year. In a story first printed in the Mornington Peninsula Leader this week the couple, 81 and 70 respectively, revealed how they managed to drop three clothes sizes and improve their health at the same time.
The couple were inspired to start losing weight when they found a weight reduction program that promoted natural weight loss. Rather than their usual unhealthy diet of junk food the couple started to eat naturally and eliminate processed foods from their diet as much as possible. They said their secret to losing weight was being weighed once a week and learning about the foods they should be avoiding such as beer, wine and ice cream.
"We were just two fatties," Ray said when asked why they wanted to lose weight. Now the couple have both noticed the benefits to their health and are no longer on medication for high blood pressure, are taking fewer tablets for other complaints and have bought a whole new wardrobe. "It is true, it's never too late to start losing weight - I wish I had done it years ago because I feel so much better," Mr Woolridge said.
The experts at Body Evolution know that losing weight at any age can be extremely difficult. However with the right help and information it can be done. Ray and Valerie lost weight by focussing solely on their diet as their age meant that intense physical exercises were not an option. This shows the power of a simple healthy diet and knowing which foods to avoid or eat in moderation. Losing weight can be done without any fancy food gimmicks or spending countless hours in the gym and more information is about diet plans is available at the Bodyevolution.com website.
About Bodyevolution.com
The http://www.bodyevolution.com/ website is a leading source of information for anyone who wants to know how to lose weight fast. With hundreds of articles and blog posts about all aspects of losing weight it has been helping people in the UK lose weight since 2011.