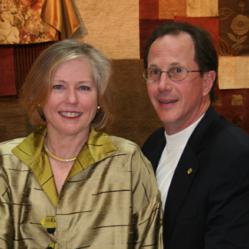 "We are delighted to share our thoughts and expertise via our blog; we love staying connected to those with a passion for interior design."
Boston, Massachusetts (PRWEB) September 11, 2012
While their primary focus is designing interiors that have been heralded for their creativity and livability, the husband/wife interior design team of Sally Wilson ASID and John Kelsey, CAPS of the Boston interior design firm Wilson Kelsey Design have established a natural segue into the world of design blogging. Complementing their interior design degrees - Wilson holds a degree in English Literature and Kelsey holds a degree in Human Development – they have the captivating combination of design talent and skill sets to be award winning design bloggers. To date the duo has collected a "Blog on Fire Award" and two "Liebster Awards" in addition to guest invitations from the highly acclaimed "Haus Design Blog" and the prominent New England Home magazine. "We were delighted to learn that Sally's blog for New England Home magazine's May – June 2012 column set their record to date for responses and comments," notes Kelsey. Wilson was also interviewed by DesigningLuxury.com for her thoughts on the interior design profession and the firm's award winning Prides Crossing project was featured on the Willow Decor blog.
Interior design blogging is an effective way to illustrate creative solutions to design problems; share visual delights that make people wonder; and communicate a designer's core design philosophy and values. Wilson Kelsey Design's blog has covered a wide array of topics including art, antiques, furnishings, lighting, accessories, cabinetry, trends in color and style, as well as a wealth interesting places to visit. "We are delighted to share our thoughts and expertise via our blog," states Wilson, "we love staying connected to those with a passion for interior design."
And just what elements have made Wilson Kelsey Design's blog so successful? "For starters," notes Kelsey, "a few good rules of thumb are communicating ideas concisely and effectively, offering great visuals, and frequency. …stream of consciousness seems to work well too! I approach blogging as though I were corresponding with a close friend; I love to hear what others have to say about my thoughts and I always try to respond to each comment."
About Wilson Kelsey Design
Praised for creating elegant, yet genuinely livable homes, the husband/wife team of Sally Wilson, ASID and John Kelsey, CAPS continues to garner acclamations for their design talents. Their firm has been published both locally and nationally and has received numerous regional and national awards including The Institute of Classical Architecture and Classical America New England's 2011 award for Best Residential Interior Design and Interior Renovation; American Society of Interior Designers (ASID) New England Design Excellence First Place Awards for a Residential Bath and a Residential Space, Dream Home Awards inclusive of a Gold Award for Best Kitchen Remodel, a Silver Award for Best Design of a Condo/Townhouse/Loft, and a Silver Award for Best Bathroom Remodel; a COTY Award for Best Kitchen over $150,000 presented by the National Association of the Remodeling Industry and Silver Prism Awards for Best Kitchen Remodel over $150,000 and Best Interior Design of a Living Area sponsored by the Builders Association of Greater Boston.
Based outside of Boston, Massachusetts, the duo is unique in that they bridge the gap between architect and decorator. They share a strong technical background, including the ability to read and prepare architectural drawings. The former producer of This Old House referred to their work as "heavy-duty interior design." In organizing their firm, they have divided the labor between them into the "hard" and the "soft". John designs and details the hard – interior architectural detailing, cabinet design, lighting, interior construction drawings, construction field supervision, and consultant coordination. Sally initiates and implements project concepts inclusive of interior design, furniture, decorative lighting, antiques, fabrics, and color and finish selections. The homes they design are elegant and sophisticated but always with a sense of comfort and livability. With backgrounds in commercial and corporate design as well as private residences the team specializes in a variety of project types.
WILSON KELSEY DESIGN
Phone: (617) 292-3380
Website: http://www.wilsonkelseydesign.com
Blog: http://blog.wilsonkelseydesign.com