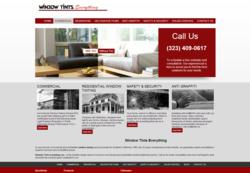 Videos are a great way for us to showcase our work. We hope that by watching the videos people will visit our website or call our office to schedule an appointment
Los Angeles, California (PRWEB) November 17, 2012
A media representative for Window Tints Everything, a residential and commercial window tinting Los Angeles company, today announced the release of three new videos. The company produced the videos as part of a video marketing campaign to increase brand awareness in Los Angeles and the surrounding areas.
The videos are hosted on the company's YouTube channel and have so far been viewed collectively ninety times. The company is targeting the videos to homeowners who are considering residential window tinting in Los Angeles. One of the principals at Windows Tints Everything said, "Videos are a great way for us to showcase our work. We hope that by watching the videos people will visit our website or call our office to schedule an appointment."
The company uses solar control films which are known to be the best at controlling the amount of solar energy that enters a home through the windows or via radiation and heat. Solar window film has been used in cars and vans for decades and it is now widely used as home window tinting because of the many benefits it offers. The film provides excellent visibility to the street from inside the home and it provides privacy from the outside because people are not able to see inside.
"I wholeheartedly recommend Window Tints Everything. We used them last year to do our home and our windows still look great. We don't close the drapes as much as we used to and it feels a lot cooler in our living room. There's a big difference!" – Wendy Rivera
Consumers who are looking for window tinting in Los Angeles are encouraged to visit the company's website to learn more about the benefits of solar film. On the website, consumers may request a free estimate and a special 'home owner' free consultation which can be used to discuss the different types of window tinting film that are available and the time required to complete a project.
About
Window Tints Everything, Inc. is a premier commercial and residential tinting service provider for Southern California. With over 35 years of experience in the industry, the company guarantees expert consultations, superior services and competitive prices. Backed up by an experienced and talented team, the company remains as an industry leader and continues to provide the best window tinting solutions for many homes and businesses.
Contact
Window Tints Everything
6058 San Fernando Rd.
Glendale, CA 91202
Phone: (323) 419-0617
Website: http://windowtinting-losangeles.com/