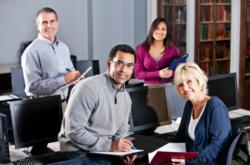 Los Angeles, CA (PRWEB) January 18, 2012
The NFECs' workplace financial education program features presentations, marketing material, CFP Board of Standards approved training and lunch-&-learn presentations that help financial advisors connect with employees as they share personal finance tips. The program provides financial professionals turnkey resources to help businesses that are seeking employee financial education workshops.
Financial advisors, insurance representatives or concerned citizens looking to deliver workplace financial education classes must complete the NFECs' Certified Financial Education Instructor (CFEI) coursework. The CFEI program illustrates how to deliver personal financial training in a way that moves participants to take positive action toward their financial future.
The NFECs' Certified Financial Education Instructors course was approved for 4 hour of continuing education credits by the Certified Financial Planner Board of Standards. This allows Certified Financial Planners to earn general education credits and provides them a vehicle to connect with new potential clients.
The current economic conditions have increased the need for employee financial education courses. Most workers are struggling with personal financial issues, and this often spills over into their work. With over 75% of Americans citing money as a significant cause of stress according to the American Psychological Association, more employers are adding workplace financial literacy classes in their wellness programs.
"There is a direct correlation between financial stress and productivity," states Vince Shorb, CMO of the NFEC. He continues, "When people worry about personal finance issues it can lead to absenteeism, lower productivity and impact the mood of the workplace. This not only impacts the employee but also the employers bottom line."
The National Financial Educators Council provides financial literacy solutions to organizations and financial professional globally. The NFEC trains and certifies individuals so they may improve the financial capability of those they serve while raising awareness for the financial education movement. The NFEC's workplace financial education program provides turnkey solutions for the financial professional looking to teach personal finance.
###