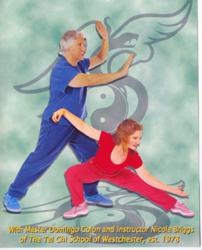 "Experience Tai Chi with millions of people world-wide."
Bronxville, New York (PRWEB) April 09, 2012
To celebrate the 14th Annual World Tai Chi Day, the Tai Chi School of Westchester, est. 1978 will hold an Open House and Demonstration of Tai Chi at the Westcenter Church, 101 Pondfield Road West, Bronxville New York, Saturday April 28, 2012 at 9 AM.
Visitors will be welcome to join in on these enjoyable, gentle exercises that anyone can do. All participants will also receive a Free DVD.
World Tai Chi Day was created to help promote the healing art of Tai Chi and has grown to indeed become a world-wide event with millions of people participating in hundreds of countries. Countless research studies have confirmed the many healing benefits of Tai Chi and has lead to a phenomenal increase in Tai Chi classes throughout the United States.
Master Domingo Colon, the director of the Tai Chi School of Westchester, began his study of Tai Chi in 1965 in New York City and opened his school in Westchester in 1978, making it the oldest school specializing in Tai Chi in Westchester New York. Master Colon is the author of the popular "Seniors Tai Chi Workout" and "Teaching Tai Chi to Special Populations" books and has also produced a series of outstanding instructional DVD's to help anyone easily practice Tai Chi at home.
Master Colon has used his 45+ years of Tai Chi experience and background in physical therapy to specialize in adapting Tai Chi to help seniors, individuals with special needs, and children improve their health safely and while having fun.
The Tai Chi School has taught and continues teaching classes throughout New York and Connecticut in senior centers, nursing homes, hospitals, colleges, community centers and corporations, as well as at their own studio located in Bronxville, New York. Master Colon has appeared on countless TV and radio interview programs to help promote the healing art of Tai Chi.
This year the World Tai Chi Day Demonstration is especially memorable as it also represents a landmark 26 years of the Tai Chi School of Westchester teaching in Bronxville.