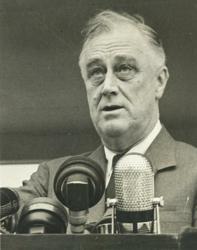 Roosevelt was literally at death's door.
Harrisburg, PA (PRWEB) November 01, 2012
Franklin D. Roosevelt was going to win the election of 1944. That much was certain. FDR was an icon: victor over the Depression, champion of the middle class, stalwart leader against the Axis powers in World War II. Against him, Republican challenger Governor Thomas Dewey of New York had little hope of winning.
But what neither Dewey nor anyone else outside Roosevelt's inner circle realized was that FDR was literally at death's door as he ran for reelection. So says author John E. Stanchak in an article now featured on the website of AMERICA IN WWII magazine, AmericaInWWII.com. Stanchak's article details why Roosevelt decided to run despite rapidly progressing physical collapse, and how he managed to mount a successful campaign on the American WWII home front with the help of Democratic Senator Harry S. Truman.
FDR "was crumbling," writes Stanchak, "and there was nothing 1940s medical technology could do for him." The president's doctors, Stanchak says, "concluded he was suffering from congestive heart failure, chronic bronchitis, and what they termed 'invalidism,' the breaking down of his body's systems and organs after more than two decades of struggle with paralysis." That paralysis had begun 20 years before World War II, in 1921, when Roosevelt contracted polio (or more likely, as Stanchak reports, Guillain-Barré syndrome).
Stanchak's article, titled "Truman: FDR's Exit Plan," explains that Roosevelt, fully aware of his fragile condition, felt obliged to run for an unprecedented fourth term as president in order to avoid what he believed could be a disastrous change of direction in World War II. Quoting from a letter FDR sent to a Democratic party leader, Stanchak reveals the president's inner turmoil over the decision. "All that is within me cries out to go back to my home on the Hudson River, to avoid public responsibilities," Roosevelt wrote. But he was obliged to run, he explained, because "to win this war wholeheartedly, unequivocally, and quickly as we can is our task of first importance."
"Run he would," writes Stanchak, "…but Roosevelt needed a running mate who could supply the campaign vigor he lacked—and carry on his presidential legacy after his fast-approaching death." FDR pressured younger, robustly healthy Senator Harry S. Truman of Missouri to be his running mate, the face of his campaign—and his hand-picked successor in the Oval Office.
Truman was a hard sell at first, Stanchak recounts. "He knew the state of Roosevelt's health and did not want to be the man to follow him or to be compared to him," he writes. It took a phone call from FDR on the eve of the Democratic convention to change Truman's mind. Truman sought and received the nomination as vice president, and set out to campaign for Roosevelt.
History shows that Roosevelt's campaign strategy worked. By staying out of the public eye (which, in the context of the war and its demands on the president's time and attention, did not raise suspicion) and sending Truman out on the campaign trail, FDR won the election of '44 handily. After Roosevelt's death on April 12, 1945, Truman assumed the presidency. Truman would finish the war. Truman would make the weighty decision to use nuclear weapons against Japan. And Truman would preside over the euphoria on America's WWII home front on V-E Day (Victory in Europe, May 8, 1945) and V-J Day (Victory over Japan, August 14, 1945, in the USA).
Articles on the American experience in World War II—at the front and on the home front—appear in every issue of AMERICA IN WWII magazine. AMERICA IN WWII and AmericaInWWII.com are publications of 310 Publishing LLC of Harrisburg, Pennsylvania, a company committed to telling the stories of history in human terms.