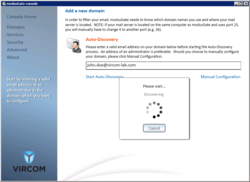 The updated software adds protocol, domain and mail server auto-discovery to a new configuration console, enabling IT administrators to complete the setup process within minutes
Montreal, Canada, (PRWEB) January 22, 2013
Vircom, an award-winning e-mail messaging security software company, has released modusGate™ 5.20, an email security and anti-spam filter software for Microsoft Exchange™ servers. The updated software adds protocol, domain and mail server auto-discovery to a new configuration console, enabling IT administrators to complete the setup process within minutes.
"IT administrators throughout the planet are overloaded with work. With this new version, we are effectively allowing busy administrators to setup a complex and high-quality corporate spam filter with no prior knowledge or expertise with the technology and the industry," stated Damien Ramé, Director of Manager and Product Strategy at Vircom. "The new modusGate setup console will perform extensive auto-discovery of all parameters required to deliver efficient email security for their Microsoft Exchange servers. No need to become a subject expert or go through a 200-page manual. Download. Install. Done."
In addition to a simplified setup procedure, modusGate 5.20 also packs the latest version of the Norman™ Anti-Virus engine. The new version improves update cycles even further, providing better reaction to new threats, speedier updates, smaller package sizes, reduced scanning speed and improved detection for many 32-bit and 64-bit file formats.
Vircom's modusGate software runs on Windows platforms (2003/2008/2008R2) and is available to order today. For pricing or to request a free 30-day software trial, please visit the Vircom website: http://www.vircom.com.
About Vircom
Vircom Inc. is a software development and professional services company focused exclusively on email messaging security. Founded in 1994, Vircom is the only email security vendor to offer a wide range of deployment options, proprietary anti-spam technology, complete Windows™ infrastructure integration and premium customer service. Its award-winning products include modusMail™, modusGate™, modusGate™ VM and modusGate™ Appliance. Vircom technology is made available to several major security providers and businesses, and deployed through third-party vendors to customers in more than 100 countries. For additional information, please visit http://www.vircom.com or call 1-888-484-7266.
Media Contact
Damien Ramé
Director, Marketing & Product Strategy
Vircom Inc.
Phone: (514) 845-1666 ext. 297
Email: damien.rame(at)vircom(dot)com
Trademarks
Vircom, Email Security Matters, SysAdmin on the Line, NetAdmin on the Line, modus, modusMail, modusGate, and directQuarantine are trademarks of Vircom Inc. Windows and Exchange are registered trademarks of Microsoft Corporation. All other trademarks are the property of their respective owners.