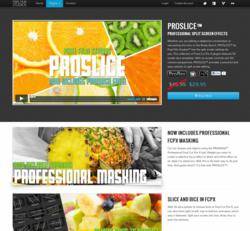 Today, Pixel Film Studios has released the strongest split screen plugin possible for Final Cut Pro X
Aliso Viejo, California (PRWEB) January 04, 2013
Pixel Film Studios, creator of FCPX effects and plugins for the post-production and film editing markets, announced the availability of ProSlice™, custom Split Screen effects and plug-ins for Apple Final Cut Pro X.
"Today, Pixel Film Studios has released the strongest split screen plugin possible for Final Cut Pro X" said Christina Austin, CEO of Pixel Film Studios. "We are extremely excited of this FCPX plugin".
With 50 slice presets to choose from in Final Cut Pro X, an editor can slice from right-to-left, top-to-bottom, and every which way in between. Split screens in Final Cut Pro X to two, three, four or even five sections.
3D capabilities are also available in this FCPX effect. On-Screen controls, with a reference guide, allow users to visualize the perspective in a brand new way. Keyframe the perspective of a clip and get the illusion a viewer is walking past the scene. Intuitive controls in the FCPX effects inspector can change the border width, color and placement of split screen dividers.
ProSlice™ was professionally designed to work seemlessly with Final Cut Pro X. Use the on-screen controls in the viewer to move, rotate, and scale your clips inside their designated areas.
Cut out shapes and objects using the ProMask™ Professional Final Cut Pro X tool. Create a selective focus effect or black and white effect on an object to stand out. This is a great way to do just that. This Plugin comes bundled with ProSlice™.
Established in 2006, Aliso Viejo, California-based Pixel Film Studios is an innovative developer of visual effects tools for the post-production and broadcast community. Their products are integrated with popular non-linear editing and compositing products from Apple FCPX. All Apple, the Apple logo, Mac OS X, and Macintosh are registered trademarks of Apple Inc. in the U.S. and/or other countries. All other trademarks and trade names are the property of their respective owners.