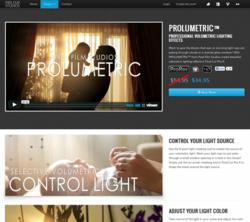 Volumetric lighting is an essential part of creating an atmosphere in a scene which is why Pixel Film Studios has released ProLumetric™ plugin for Final Cut Pro X
Aliso Viejo, California (PRWEB) January 07, 2013
Pixel Film Studios, creator of Final Cut Pro X plugins and effects for the post-production and film editing world, announced the release of ProLumetric™, custom volumetric lighting effects and plug-ins for Apple Final Cut Pro X.
"Volumetric lighting is an essential part of creating an atmosphere in a scene which is why Pixel Film Studios has released ProLumetric™ plugin for Final Cut Pro X," said Christina Austin, CEO of Pixel Film Studios. "We have seen a lot of excitement for this FCPX plugin".
Use the 8-point light masking tool to isolate the source of the volumetric light. Allow light rays to poke through a small window opening or a hole in the clouds. On-screen masking tools in Final Cut Pro X to shape the mask around the light source and create the effect of light coming through a window..
Contro the light in the scene and adjust the color of the volumetric lighting. From a dimmly candle lit dinner to a sunset at dusk, change the mood with a tweak of the on-screen controls. Over 24 different presets of dust that can be added into the volumetric light in Final Cut Pro X. From out of focus large dust particles to small shimmers in the distance.
A user can diffuse light using two methods in ProLumetric™. The simple diffuser located at the light source and diffuser point is used to bounce the light around the scene creating a realistic volumetric light effect.
Established in 2006, Aliso Viejo, California-based Pixel Film Studios is an innovative developer of visual effects tools for the post-production and broadcast community. Their products are integrated with popular non-linear editing and compositing products from Apple FCPX. All Apple, the Apple logo, Mac OS X, and Macintosh are registered trademarks of Apple Inc. in the U.S. and/or other countries. All other trademarks and trade names are the property of their respective owners.