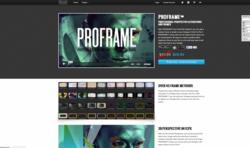 Applying a frame to your film and altering the perspective is a fun and easy way to add depth and style to your footage in Final Cut Pro X
Aliso Viejo, California (PRWEB) January 23, 2013
Pixel Film Studios, engineer of visual effects tools for the editing and post-production markets, released ProFrame™, a perspective and frame effect plug-in for Apple Final Cut Pro X today.
Users can choose from seven different frame and border types (including: TV, Vintage Frame, Grunge, and Film). With ProFrame™, editors can take their footage anywhere from an art gallery to a 3D geometric universe in the click of a button.
"Applying a frame to your film and altering the perspective is a fun and easy way to add depth and style to your footage in Final Cut Pro X," said Christina Austin, CEO of Pixel Film Studios, "We are really excited about this FCPX plugin. It was really fun to make and edit with"
With the 3D Camera Perspective, users can pan around the side of the image while also zooming in towards it, creating a parallax effect between the frame and image. ProFrame™ allows users to play with their footage in 3D space inside Final Cut Pro X. Editors can take full advantage of the 3D camera perspective by racking focus along the frame and image with the depth of field controls. These simple controls in the FCPX Inspector allow users to bring attention to a specific plane in the frame.
Editors can also use the DIY ProFrame™ Plugin to build their own frame plugins. They simply have to place a frame of their choice in the dropzone and then manipulate it using all of the ProFrame™ controls. With the DIY ProFrame™, users can add up to three frame layers to create their very own parallax effect.
ProFrame™ was professionally designed to work seemlessly inside Final Cut Pro X. Editors simply browse through the plugin library in the effects window, select the frame they like, and use the FCPX Inspector to manipulate the 3D perspective of the image. Quick and easy sliders allow users to rack focus, zoom, and pan the camera.
Established in 2006, Aliso Viejo, California-based Pixel Film Studios is an innovative developer of visual effects tools for the post-production and broadcast community. Their products are integrated with popular non-linear editing and compositing products from Apple FCPX. All Apple, the Apple logo, Mac OS X, and Macintosh are registered trademarks of Apple Inc. in the U.S. and/or other countries. All other trademarks and trade names are the property of their respective owners.