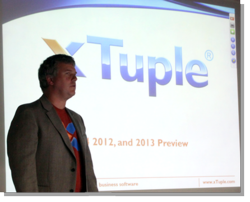 ERP is akin to alchemy. Better than mere gold, xTuple turns business aspirations into reality and profits.
Norfolk, Virginia (PRWEB) January 30, 2013
xTuple, fast recognized as the world's #1 open source ERP, delivered record revenues in 2012 and continued strong overall growth in the fourth quarter, the third successive "best quarter ever." Sales for the full year 2012 were up 50% over 2011 with a greater percentage of market-driven sales delivered by the xTuple Partner channel, which itself grew by 33%.
Employment doubled in 2012 to sustain market demand for more nimble open source ERP software. Close to one-third of employees now work outside xTuple's Mid-Atlantic headquarters, covering eight U.S. states and Canada.
Embracing its open source roots, xTuple, the lowest total cost of ownership (TCO) of any ERP on the market, is also proving itself to be among the easiest to use enterprise technology applications today. This aligns with the company's mission: to "help companies of all sizes successfully implement powerful and easy-to-use open source ERP software, to grow their business profitably."
As Mike Atherton, xTuple's Director of Training, puts it, "ERP is akin to alchemy. Better than mere gold, xTuple turns business aspirations into reality and profits."
Milestones in fourth quarter 2012 include:
Open source innovator Marc O'Brien joined the xTuple management team as Vice President of Business Development. O'Brien, formerly of Acquia, co-founded OpenProj (now ProjectLibre), the open source alternative to Microsoft Project.
The rapidly growing Value Added Reseller (VAR) Partners were recognized at the annual xTuple Partner Conference (PartnerCon) with awards for exceptional growth and outstanding service.
The landmark and much anticipated release of version 4.0 of the xTuple accounting, CRM and ERP suite came in December 2012 with over 400 new enhancements in the classic Desktop and the first ever Mobile Web client, optimized for a multi-tenant Cloud hosting environment.
xTuple for Wholesale Distribution (xWD) began its soft launch with several new customer implementations in electrical and plumbing distributors, replacing the few remaining software alternatives under-supported by legacy vendors in the industry.
Technology analysts continue to seek out xTuple CEO Ned Lilly to explain how the xTuple product line runs circles around companies literally hundreds of times greater in size.
"We're very comfortable playing the role of disruptor in a market that has, frankly, drifted away from product quality and customer satisfaction," said Lilly. "Open source allows us to develop a better product and be more responsive to our global community of users – customers, partners and even users of the free product. We believe it's a better way to do business, and it's gratifying to see this continuing affirmation from the market. But we also know that the onus is on us to keep delivering, and we intend to do so. 2013 should be another breakout year for xTuple."
xTuple Supports Innovation
From blueprints to buildouts, xTuple helps foster startups in the heart of the Mid-Atlantic technology corridor between Research Triangle, North Carolina, and Washington D.C. As a committed, passionate member of the Greater Norfolk tech community, xTuple is a financial sponsor as well as mentor at HatchNorfolk.com, an intense accelerator program, and other events where entrepreneurs showcase their ideas.
About xTuple
xTuple business management software gives growing companies control over operations and profitability. xTuple integrates all critical functional areas in one modular system: sales, accounting and operations – including customer and supplier management, inventory control, manufacturing and distribution – the powerful tools to Grow Your World®.
As a commercial open source company, xTuple works with a global community of tens of thousands of professional users. xTuple gives customers the ability to tailor solutions with multi-platform support for Windows, Mac, Linux and mobile as well as flexible licensing and pricing options. Connect with the company at xTuple.com, with the open source community at xTuple.org, and join the innovation conversation at NextBusinessBlog.com.
Reference the xTuple Style Guide (xSG): xTuple.com/xSG