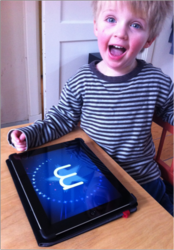 When we field-tested this app, we had to struggle to get our iPads back from the students. They kept insisting, "Just one more, PLEASE!"
Teachers With Apps
Amsterdam (PRWEB) January 31, 2013
LetterSchool has already been introduced into many homes, schools and therapy practices all over the world. Everyone is impressed by the game's innovative approach to handwriting instruction, its outstanding quality and its high replay value. Since the app's release just over a year ago, sales of LetterSchool have steadily increased, with the number of sales to schools showing explosive growth—particularly since the app won the KAPi Award "Best Younger Children's App 2013" earlier this month. The continuous year-long upward trend visible in LetterSchool's sales chart is, in and of itself, remarkable for an app: in most cases, that line plummets after the first week or so, instead of rising. That's just one more way in which the app proves it is a remarkable product that's helping thousands of children enjoy learning to write. In its review, Teachers With Apps wrote, "Their slogan, LetterSchool Makes Handwriting Cool, is on their opening page… and, oh yes, this app makes everything cool! When we field-tested this app, we had to struggle to get our iPads back from the students. They kept insisting, 'Just one more, PLEASE!'"
Winning the prestigious KAPi Award "Best Younger Children's App 2013" confirms what Boreaal Publishers has known for some time: its LetterSchool app fills a significant need for high-quality educational apps for young children. The KAPi Awards were presented on January 10, 2013 at the Consumer Electronics Show (CES®). This is the cherry atop an impressive stack of awards and accolades the app has received in its first year. In the past few weeks LetterSchool has appeared on several "best of 2012" lists, and earlier in 2012 the app was crowned "Best Educational Game" in the Best App Ever Awards, "Best Educational App" and "Best Mobile App for Homeschoolers" in the About.com Reader's Choice Awards and "Editor's Choice Award" in the Children's Technology Review—and that's just the tip of the iceberg. A non-exhaustive list of the app's awards and experts' reviews is available at LetterSchool.com.
The game's greatest achievement is that it creates a very stimulating learning environment, offering children a truly compelling gaming experience. The wide variety of entertaining games captures the attention and keeps players practicing their letters and numbers, over and over again. By doing so, children are practicing the complicated art of handwriting without even noticing it's difficult. That is the likely source of the app's success with not only children but also parents, teachers and therapists. The response has been overwhelmingly positive, and the most frequent comment is a desire for the sequel. The continuous highly positive response underscores LetterSchool's important role as an innovator in handwriting instruction.
Install the free lite version of LetterSchool, which will allow you to reach the gold level and test-drive the free-form writing game more quickly. Reporters can also request a promotional code for the full version. Feel free to ask for our media kit containing high-resolution artwork on the contact page of our website.
LINKS
LetterSchool website:
http://letterschool.com/
LetterSchool video:
http://youtu.be/4sDZqBMqG-4
iTunes, LetterSchool:
http://itunes.apple.com/us/app/letterschool/id435476174?mt=8
iTunes, LetterSchool Lite:
http://itunes.apple.com/us/app/letterschool-lite/id481067676?mt=8
Overview of awards and reviews:
http://letterschool.com/reviews.html
KAPi Awards 2013 Press Release:
http://www.prweb.com/releases/2012/12/prweb10276389.htm