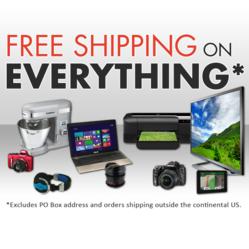 Edison, NJ (PRWEB) February 25, 2013
BuyDig.com, the Internet's Digital Superstore, has one of its biggest announcements yet: free shipping on all items store-wide within the continental United States. In an effort to help their customers save more, BuyDig.com has removed the cost of shipping from the equation. What the customer sees is what he pays with no additional shipping costs within the lower forty-eight.
BuyDig.com's free shipping policy covers all items in its store. With a catalog that ranges from televisions to tablets, BuyDig.com has something to interest every customer. A specialist in consumer electronics, BuyDig.com has a wide selection of items for the student, the up-and-coming college graduate, the new family, or the grandparents. Their selections include televisions from LG, Samsung, and Sony; computers from Asus, Hewlett-Packard, and Toshiba; and digital cameras from Canon, Nikon, Sony, Samsung, Olympus, and Panasonic. Each category has a wide range of offerings from point-and-shoot digital cameras to high-end professional DSLRs and equipment; portable televisions to 84' high-end LED HD wall-mounted televisions; or tablet computers to towers.
BuyDig.com isn't just limited to the latest in gadgets and computers. Their store can help Mom in the kitchen with a wide range of kitchen appliances from many different manufacturers. They can also help keep the peace in the household with their selection of headphones and headsets – allowing everyone to listen to their own music or to watch their own movies or shows on their tablets without creating a chaotic cacophony. BuyDig.com can also help get the health-conscious off to a good start with heart monitors that fit the wrists or ankles of anyone and grills where healthier meals can be prepared outdoors, in the fresh air, away from the siren call of computers, televisions, or gaming consoles.
In addition to the new site-wide free shipping, BuyDig.com is running a sweepstakes through its Facebook page. Head over there, click the "Like" button, and sign up for a chance to win a Google Nexus tablet. The sweepstakes closes on February 28th so anyone who is interested is urged to make haste or see the chance go to waste.
About BuyDig:
BuyDig.com is a family-owned and operated online retailer based in Edison, New Jersey. Founded in 1983 under its parent company, Beach Trading Co. Specializing in selling digital cameras, electronics, computers, tablets, audio/video, home and garden, kitchenware and more, BuyDig has worked diligently to become the Internet's #1 electronics superstore. BuyDig partners with many of the major CE manufacturers such as Canon, Samsung, Sony, HP, SanDisk, and Toshiba to make consumer technology and electronics affordable and available to the widest market possible. BuyDig also offers free shipping as well as a 45-day return policy on items purchased from their store. By combining legendary customer service with a philosophy of providing more for less, BuyDig.com has earned its reputation as the premier destination for consumer electronics.