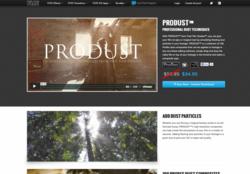 Making the ProDust composite footage for Final Cut Pro X users was extremely fun. We jump at the opportunity to make effects in-camera
Aliso Viejo, California (PRWEB) February 11, 2013
Film production company and Final Cut Pro X plugin maker, Pixel Film Studios, announced the release of ProDust, professionally filmed dust composite footage.
"Making the ProDust composite footage for Final Cut Pro X users was extremely fun," said Christina Austin, CEO of Pixel Film Studios. "We jump at the opportunity to make effects in-camera."
Whether filming a magical fantasy world or an old haunted house, ProDust's high-resolution composites can help create the atmosphere of a film in a matter of seconds. Adding floating dust particles to footage is a great way to give a film a hyper-real quality.
The ProDust composites were shot at 60fps on super speed lenses to create the best quality videos with the least amount of blur. All the ProDust video composites are ProRes 24fps quicktime files that work inside any non-linear editing system.
The dust particles in the ProDust video files vary in size, speed and focus, so editors can layer them to create more depth in their image. This is a great way to give a film a more cinematic feel. With 100 dust techniques to choose from, the combinations are endless!
ProDust video files can be used in any non-linear editing software, but if editors are using it in Final Cut Pro X, they can use the ProDust Compositing Tool to help blend and color correct the dust to match the footage. Users can even invert the dust footage to create an ash look. The Compositing Tool is free with a purchase of ProDust.
Established in 2006, Aliso Viejo, California-based Pixel Film Studios is an innovative developer of visual effects tools for the post-production and broadcast community. Their products are integrated with popular non-linear editing and compositing products from Apple FCPX. All Apple, the Apple logo, Mac OS X, and Macintosh are registered trademarks of Apple Inc. in the U.S. and/or other countries. All other trademarks and trade names are the property of their respective owners.