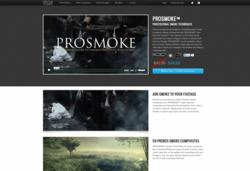 ProSmoke is a great companion plugin to our ProDust plugin for Final Cut Pro X. We had a lot of fun making these smoke composites for FCPX even though we nearly burned down our warehouse while making them
Aliso Viejo, California (PRWEB) February 12, 2013
Production house and Final Cut Pro X Plugin programmers, Pixel Film Studios, announced the release of ProSmoke, a s moke composite footage pack for Apple's Final Cut Pro X.
"ProSmoke is a great companion plugin to our ProDust plugin for Final Cut Pro X," said Christina Austin, CEO of Pixel Film Studios. "We had a lot of fun making these smoke composites for FCPX even though we nearly burned down our warehouse while making them."
Whether filming a magical fantasy world or smoldering ruins, ProSmoke's high-resolution composites can help create the atmosphere of a film in a matter of seconds. Adding wisps of smoke to footage is a great way to give a film a surrreal look.
ProSmoke consists of 50 ProRes 2k smoke composites files created by filming real wisps and puffs of smoke. These smoke video files can be applied and composited onto footage in any non-linear editing software (such as Final Cut Pro X, Avid, and Adobe Premiere).
The smoke in the ProSmoke video files vary in size, focus and shape, so editors can layer them to create more depth in the image. With 50 smoke composites to choose from, the combinations are limitless, simply drag two ProSmoke videos ontop of the footage and change the blend mode.
ProSmoke video files can be used in any non-linear editing software, but Final Cut Pro X editors can use the ProSmoke Compositing Tool to help blend and color correct the smoke to better match the footage. Users can even change the color and blur of the smoke to make it look more steamy than smokey.
Established in 2006, Aliso Viejo, California-based Pixel Film Studios is an innovative developer of visual effects tools for the post-production and broadcast community. Their products are integrated with popular non-linear editing and compositing products from Apple FCPX. All Apple, the Apple logo, Mac OS X, and Macintosh are registered trademarks of Apple Inc. in the U.S. and/or other countries. All other trademarks and trade names are the property of their respective owners.