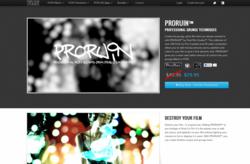 ProRuin is a really innovative grunge plugin for Final Cut Pro X. With ProRuin, you can customize the size, color and opacity of each speck, splatter and burn in the FCPX Inspector
Aliso Viejo, California (PRWEB) February 26, 2013
Final Cut Pro X plugin producers, Pixel Film Studios, released ProRuin, a grunge effects pack for Apple's Final Cut Pro X, today.
"ProRuin is a really innovative grunge plugin for Final Cut Pro X" said Christina Austin, CEO of Pixel Film Studios, "With ProRuin, you can customize the size, color and opacity of each speck, splatter and burn in the FCPX Inspector."
Filmmakers can now destroy their film -- in a good way. Adding ProRuin to footage in Final Cut Pro X is the easiest way to add dirt, burns, and splatters to film without lighting the camera on fire or dipping it in paint. With ProRuin, editors can create limitless unique and grungy looks.
With over 100 awesome ruined effects for Final Cut Pro X and 50 ProRes video composites, ProRuin gives editors the tools to rock on. FCPX users can choose from 1 of the 10 effects styles (including Water Damage, Splatter Effects, and Chaos), or layer multiple styles to create grittier and crazier looks.
Using numerous techniques and equipment, the artists at Pixel Film Studios™ created all the burn and splatter elements in ProRuin by hand, burning and staining different materials and textures. We even pulled out our hair and scanned it, so editors don't have to.
ProRuin brings never seen before customization to grunge effects in Final Cut Pro X. With the easy-to-use sliders and controls found in the FCPX Inspector, editors can change the individual colors, scales, blurs and opacity of the grunge elements in ProRuin.
Established in 2006, Aliso Viejo, California-based Pixel Film Studios is an innovative developer of visual effects tools for the post-production and broadcast community. Their products are integrated with popular non-linear editing and compositing products from Apple FCPX. All Apple, the Apple logo, and Macintosh are registered trademarks of Apple Inc. in the U.S. and/or other countries. All other trademarks and trade names are the property of their respective owners.