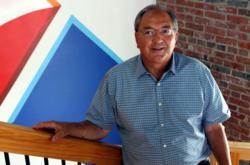 NAED - the meeting place of the industry.
Norfolk, Virginia (USA) (PRWEB) February 18, 2013
xTuple is proud to announce its new membership in the National Association of Electrical Distributors (NAED) Allied Partner program.
Account Executive for xTuple, Mr. Stacey Pandeloglou, will be on hand at the NAED South Central Region Conference at Caesar's Palace in Las Vegas on February 25-27 to meet with NAED members to demonstrate the recently released xTuple version 4.0, featuring multiple enhancements designed specifically for electrical distributors, fully integrated CRM system, and 400+ other enhancements as well as a brand new Mobile Web application.
The goals and objectives of xTuple align with NAED's mission as both organizations serve a wide spectrum of distributors from small- to mid-sized independents to the larger national chains. xTuple recognizes that many clients are also members of marketing groups, such as IMARK, and the company is keenly aware of the opportunity to broaden horizons by working with "the meeting place of the industry" - that is, the National Association of Electrical Distributors.
Look for xTuple in upcoming issues of NAED's tED magazine, too. @tEDmagazine is recognized as THE voice for electrical distributors - from national chains to successful independents. NAED's tED is read by the top companies in the industry.
About NAED
NAED is the central source of the nation's electrical distributors and their affiliates, serving as your hub of education, information, networking and services. Learn more at xTuple.com/NAED and follow @NAED_org on Twitter.
About xTuple
xTuple business management software gives growing companies control over operations and profitability. xTuple integrates all critical functional areas in one modular system: sales, accounting and operations – including customer and supplier management, inventory control, manufacturing and distribution – the powerful tools to Grow Your World®.
As a commercial open source company, xTuple works with a global community of tens of thousands of professional users. xTuple gives customers the ability to tailor solutions with multi-platform support for Windows, Mac, Linux and mobile as well as flexible licensing and pricing options. Connect with the company at xTuple.com, with the open source community at xTuple.org, and join the innovation conversation at NextBusinessBlog.com.
Reference the xTuple Style Guide: xTuple.com/xSG