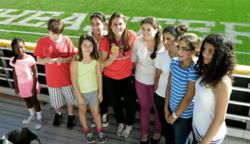 "I am really excited to be joining Berkshire Soccer Academy's team," said Heather O'Reilly
Otis, Massachusetts (PRWEB) February 14, 2013
U.S. Women's National Team Midfielder and three-time Olympic gold medalist Heather O'Reilly today announced her affiliation with the Berkshire Soccer Academy for Girls in Otis, Massachusetts where she will be a guest coach this coming summer. Camp Directors Eric and Liza Wittenberg confirmed the announcement. "We are delighted that Heather O'Reilly, one of the top female players in the world, will be visiting and enriching our program. The Berkshire Soccer Academy is a unique overnight soccer camp for girls which infuses balance and fun into a world-class soccer camp experience. We strive to provide a fun experience where every girl can elevate her game. We feel that Heather's decision to affiliate with us and to join us at our soccer camp for girls validates our approach."
"I am really excited to be joining Berkshire Soccer Academy's team," said O'Reilly. "The Academy's unique approach, which offers great instruction by professional coaches and a fun variety of other activities, seems to me to create an important balance for the 9 to 15 year old girls that the Academy primarily serves. I look forward to spending time there and contributing to the program both on and off the pitch."
Liza, who will oversee the training at Berkshire's girls soccer camp added, "Heather has a degree in education and runs her own soccer clinics. We are confident that her involvement will enhance the quality of the instruction we offer."
Berkshire Soccer Academy's four 2013 sessions are set for June 28 – July 2, July 7 – 18, July 20 – 25 and July 28 – Aug. 2. The date for Heather O'Reilly's appearance has not been set, as it depends on her summer schedule as a member of the Boston Breakers of in the new National Women's Soccer League (NWSL).
About the Berkshire Soccer Academy For Girls:
The Berkshire Soccer Academy for Girls is located in East Otis, Massachusetts. Girls at BSA receive elite training at top-quality facilities from experienced coaches. As one of the few specialty soccer camps for girls set in a traditional camp environment, Berkshire Soccer Academy encourages athletes to train hard on the field and to then enjoy a relaxing elective activity, like swimming in our private lake, yoga, hiking or arts & crafts; as well as to enjoy down-time with friends.
Athletes live in newly-renovated cabins that they share with cabin counselors who are specifically selected and trained to supervision and promote friendships among athletes.
For Summer 2013, BSA will be offering 4, 6 and 12-day sessions. For more information, visit Berkshire Soccer Academy.
About Heather O'Reilly:
Heather O'Reilly joined the U.S. women's national soccer team in 2002 when she was 17. She holds the U.S. national team record for consecutive games played, with 74. A three-time Olympic gold medalist (2004, 2008 and 2012), she has played in more than 150 international contests. O'Reilly graduated from the University of North Carolina with a degree in education. She was a forward for the North Carolina women's soccer program from 2003 through 2006, winning national championships in 2003 and 2006; and was awarded the NCAA's Today's Top VIII Award following her senior year.