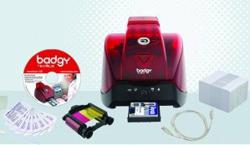 West Sacramento, CA (PRWEB) April 24, 2013
ID Card Group, a leading provider of ID card printers, systems, supplies, and accessories is now offering an affordable all-in-one solution for organizations that print less than 200 cards per year.
The new Badgy ID card printer is a simple and easy-to-use card printer that comes with everything needed to start printing right out of the box - 100 blank plastic cards, YMCKO color ribbon, card design software, and a printer cleaning kit.
To start printing, organizations simply install the printer; choose and download a card or badge design from hundreds of available templates; personalize the card with logos, backgrounds, or text; and print.
The Badgy produces ID cards and badges with photo-quality images, uses dye-sublimation to create waterproof and tamperproof badges, and is capable of printing one or many cards at a time.
The Badgy is also a perfect on-the-go printer. It's durable - yet light, compact, and portable – making it perfect for companies, associations, retail stores, libraries, gyms, public transit, schools, and even for special event passes or credentials.
Reordering supplies is simple with Badgy's prepackaged supply kits. Customers can choose from three different kits - all designed to keep organizations printing at an affordable cost.
Badgy's basic supply kits come with a YMCKO color printer ribbon, a cleaning kit, and 100 blank white cards – in either 20 mil or 30 mil thickness.
20 mil. thickness cards are perfect for ID card applications that don't need special coding or ID data, such as business cards, membership cards, or loyalty cards.
30 mil. thickness is the most widely-used size of plastic cards for ID badges, credit cards and ID cards in the world.
The Badgy two ribbon supply kit contains two YMCKO color printer ribbons capable of printing 200 cards and a cleaning kit.
The Badgy printer comes with a one-year warranty and prints on all PVC, PVC laminated, composite, and PET plastic cards.
The ID Card Group Advantage
As an authorized Evolis printer dealer, ID Card Group has deep technical knowledge from years of experience working with customers who use Evolis card printers; printing systems; and supplies, including color and monochrome ribbons, cleaning kits, eMedia software, and printer covers and carrying cases.
About ID Card Group
ID Card Group offers a full line of ID card equipment, supplies, and accessories – from identification and access control products, to promotional products for loyalty or membership programs, to gift, payment, or phone cards and systems. Industries such as business, schools, government, military, law enforcement, healthcare, gaming, hospitality, trade shows/conventions, sports & entertainment and more choose ID Card Group for its selection, expert service, and low price guarantee. To learn more, call (877) 868-0012 or visit http://www.IDCardGroup.com.