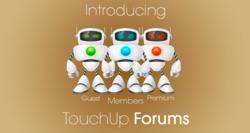 Seoul TouchUp Has Brought Out a First of Its Kind - a Forum Solely Focused on Korean Plastic Surgery
Seoul, South Korea (PRWEB UK) 24 April 2013
Seoul TouchUp has introduced a Korean Plastic Surgery forum, amassing enthusiasts from around the world to share a wealth of information. Many regard Korea as Asia's hot spot for plastic surgery purposes due to its advanced medical technology, cutting edge surgical techniques and high success rates. However, in our age of information overload, it can be a daunting task to find the right surgeon and clinic that lives up to its name.
Having acknowledged this, the advent of Seoul TouchUp's plastic surgery forum comes about at an appropriate time. Insights and reviews on surgery procedures, clinics and surgeons are just the tip of the iceberg; a plethora of benefits such as free airline tickets, private consultations and discounts on plastic surgery procedures are available to their growing community. They have created the opportunity for anyone, regardless of economic background, to pursue their desire for plastic surgery.
According to the recent announcement by the Ministry of Health and Welfare as well as the Korea Health Industry Development Institute, foreign tourists flocking towards Korea for medical purposes in 2012 has amounted to an all-time high of more than 155,000. Perhaps the sudden surge in popularity, a 27% increase as compared to the year before, may be said to owe its dues to Korea's celebrities. English-speaking followers around the world look up to their idols with much admiration, even going so far as to emulate their proportionate physiques and alluring facial features.
While there are an abundance of forums scattered throughout the world wide web, usually, only but a small, subsidiary section is dedicated to the topic of plastic surgery in Korea. For the first time ever, Seoul TouchUp has brought out a first of its kind - a forum solely focused on Korean Plastic Surgery for enthusiasts from all around the world.
For further details on Seoul TouchUp's Korean plastic surgery forums, please visit the website at http://www.seoultouchup.com