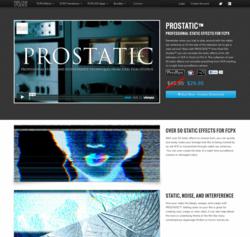 ProStatic is a really fun Final Cut Pro X plugin. You can create some awesome interference effects like the ones in the Zero Dark Thirty trailer or The Ring
Aliso Viejo, California (PRWEB) April 02, 2013
Film production house and post-production effects creators, Pixel Film Studios, released ProStatic, static and interference plugin for Apple's Final Cut Pro X, today.
"ProStatic is a really fun Final Cut Pro X plugin," said Christina Austin, CEO of Pixel Film Studios, "You can create some awesome interference effects like the ones in the Zero Dark Thirty trailer or The Ring."
With over 50 static effects to choose from, filmmakers can quickly and easily make their footage look like its being tracked by an old VCR or transmitted through rabbit ear antennas. Editors can even create the look of a night time surveillance camera or damaged robot.
Users can give their video the bleeps, sweeps, and creeps with ProStatic. Adding static to a film is great for creating cool, creepy or retro vibes. It can also help deliver the tone or underlying theme of the film like many contemporary espionage thrillers or horror movies do.
ProStatic can create awesome static, interference and noise effects without having to damage equipment. In addition, the effect does not just overlay on the image; it works with it, causing the video to roll, wriggle and warp with the interfence for the most realistic experience.
Pixel Film Studios designed these static effects to integrate perfectly with FCPX. ProStatic can help create retro television looks in any next Final Cut Pro X project. Users simply have to drag and drop one of the effects on top of their clip and adjust the length of it to fit.
Established in 2006, Aliso Viejo, California-based Pixel Film Studios is an innovative developer of visual effects tools for the post-production and broadcast community. Their products are integrated with popular non-linear editing and compositing products from Apple FCPX. All Apple, the Apple logo, and Macintosh are registered trademarks of Apple Inc. in the U.S. and/or other countries. All other trademarks and trade names are the property of their respective owners.