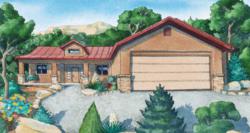 Family needs have changed, and we are building our homes knowing these needs are evolving.
Albuquerque, New Mexico (PRWEB) April 11, 2013
Albuquerque's eagerly anticipated 2013 Homes of Enchantment Spring Parade of Homes takes place April 12-14 and 19-21, and offering a sneak peak to tour goers of what to expect from one of this year's featured homes are Mike and Alexa Knight of Lee Michael Homes. The couple has been building custom homes in New Mexico together for over 20 years.
In choosing a new home construction entry from Lee Michael Homes for this year's Parade, Alexa Knight, who handles the design and detailing of their custom homes, says it was important to include one that fits in the expectations of today's homebuyers.
Albuquerque's real estate market continues to show promise and strength, thanks in large part to near all-time low interest rates on mortgages. However, she notes, even with signs that the market is slowly bouncing back, homebuyers' and homeowners' concepts of what they want now is very different from the slightly frivolous, "sky's the limit" tastes of pre-recession times. Many buyers are looking for function and style, but want unassuming and unpretentious designs. Completely gone from most homebuyers' wish lists are the over-the-top decorative architectural details, super-sized homes and the boasting exterior presences of years past.
"In sitting with clients, I have been seeing a dramatic change in the needs and desires of today's homebuyer. This year's Parade entry is exactly the direction this need is going. We are going back to the basics, without giving up our well known custom home styles and comfortable designs," Alexa observes.
Unlike previous year entries, where their entered homes were ultra-high end models, this year Lee Michael Homes showcases a Craftsman-inspired one-level design with an oversized garage and no wasted space. Details, including rustic slate tile and slab granite counters, still provide pizzaz, but without unwanted excess. Overall square footage is not as important as openness and use of the square footage such as flex spaces and large built-in storage areas.
In choosing this house for the Parade, Lee Michael Homes seeks to make homebuyers aware of how a new home build can be customized to work with their budgets, but without sacrificing quality. "It's all about keeping a sensible budget, and making a smart investment," says Alexa. Cost-saving measures in this custom home includes cutting the grade-5 granite to a grade-3, reducing the number of bathrooms, going from hand carved wood floors to engineered floors, using carefully planned paint accents vs. hand plastered walls, and going with a more economical appliance package.
The Lee Michael Homes' Parade entry is also a certified Green home, which will provide homebuyers with several thousand dollars in tax credits and energy saving costs for the life of the home.
Mike Knight, President of Lee Michael Homes, adds, "Energy efficiency and high performance was always a basic part of our homes from 20 years ago, and this part of our homes will never change. By certifying our homes to a higher level of Green, our Homebuyers can add the benefit of tax credits and improved value overall to their investment into a home. The custom aspects of our homes will never change. But family needs have changed, and we are building our homes knowing these needs are evolving."
Alexa Knights agrees. "Not only is it a trend to build this way, but it is just smart building."
For more on Lee Michael Homes visit their website at http://leemichaelhomes.com
Information about Albuquerque Spring 2013 Parade of Homes can be found here: http://homesofenchantmentparade.com