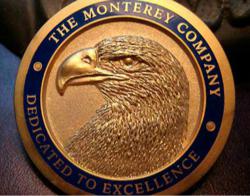 We added hundreds of new images to the site that highlights each of our products including our 3D work on custom pins and coins.
Santa Barbara, CA (PRWEB) April 05, 2013
In response to customer demand, The Monterey Company is pleased to unveil a new and updated website offering a more visual experience for placing orders, new pricing, new products, and a permanent discount for nonprofit groups for all of their custom metalworking, lapel pins, coins and more. The updated website also highlights several new specialty metal products, including custom bicycle head badges.
"The launch of the site was inspired by our customers saying how they love our images and ease of navigation, and so we added hundreds more new images to the site that highlights each of our products including our 3D work on custom pins and coins," said Paul Stark, President of The Monterey Company, Inc.
The website update also highlights new lower pricing on many of the company's offerings and an enhanced ease with placing orders, thanks in part to Salesforce, a cloud based platform that more efficiently handles high volume customer orders and requests.
Since 1989, The Monterey Company has provided businesses and organizations with a reliable, cost-effective way to bring their message to far-reaching audiences through custom lapel pins, trading pins, branded coins, and other customizable specialty items.
In 2013, many new and exciting custom products are being added to The Monterey Company catalogue, including bicycle head badges and a colorful array of custom PVC rubber keychains, lapel pins, and custom Geocoins. Included with the new website is information about how these fresh designs can benefit businesses looking for easy ways to promote and update their image. Customers can feel rest assured that all products offered are tested for lead content to ensure safety.
Visitors to the redesigned website can also learn about The Monterey Company's new mission to help nonprofit organizations by providing licensed groups with a 10% discount on all orders.
When it comes to charities, Stark has seen firsthand how hard these organizations work to fulfill their missions, frequently on very limited budgets. Since 2011, The Monterey Company has worked to help support the Santa Barbara Marine Mammal Center, a local nonprofit dedicated to rescuing and care for sick and injured marine mammals along the Santa Barbara County coastline.
"When you see how hard the Santa Barbara Marine Mammal Center works to protect the animals who call this coastline home, it makes you want to do everything you can to help them," said Stark, who added, "There are so many other non-profits out there doing amazing work and we want to give them a helping hand, too."
The 10 percent discount on orders is extended to all charities and non-profit organizations that currently have a 501(c)(3) or 501(c)(19) status.
"Our hope is that non-profit groups can use this discount to stretch their budgets even further, while still availing themselves to these great promotional items," said Stark.
The Monterey Company's website update, at http://www.montereycompany.com, also includes improved navigation to reflect new lapel pin design options and specialty metalwork orders for sports teams, trading pins, military groups, awareness pins, service pins, university and college pins.