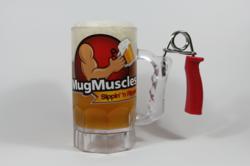 "Why not let folks cherish the idea of drinking beer being an aerobic sport, a way to get fit. It's time to get Sippin' 'n Rippin'?" ~George Hillhouse, CEO of Mug Muscles
Austin, TX (PRWEB) April 11, 2013
Mug Muscles has launched its first product, the Mug Muscles beer mug on Kickstarter. This is no ordinary beer mug, but the beginning of the Beer Exercise Revolution Program, better known as B.E.R.P. Mug Muscles is the world's first beer mug to have a built in grip exerciser.
"..Sitting on the couch on the 4th of July awhile back, having a beer, and the idea just sort of hit me, that if my beer mug had some sort of grip exerciser on it, I could get a workout too. Then, I could truthfully tell my wife I was working out. Brilliant!" ~ John Lynn, Chief Muginator & Inventor of Mug Muscles
John filed a provisional patent and came up with the beer mug's tag line, "Sippin' 'n Rippin'".
"Mug Muscles really was three friends getting together and making something fun happen, and seeing where it could go. All guys have these fun ideas that often times don't get passed the couple of beers and laughs stage. The team decided, why not? Why not let folks cherish the idea of drinking beer being an aerobic sport, a way to get fit. It's time to get Sippin' 'n Rippin'?" ~George Hillhouse, CEO of Mug Muscles
For durability, the team decided to make the Mug Muscles mug with food-grade polystyrene, a BPA free plastic with good weight and density to give a nice heft to the mug. The springs have been selected to give a good workout while enjoying a brew.
Finally, a way to enjoy a frosty brew while getting an intense workout. Work on a six-pack while working on a six-pack. The only way to get these mugs is to pre-order your Mug Muscle on Kickstarter.
The Mug Muscles Kickstarter campaign launched on Apr 5, 2013 and ends on May 5, 2013. This team is seeking Beer Athletes to help their KickStarter campaign successful and become part of the B.E.R.P. Revolution.
Mug Muscles is revolutionizing the ridiculous idea that good workouts are possible while enjoying a frosty cold beer. The team did not set out to merely make a beer mug, but turn on its head the traditional nonsense that drinking beer and exercise are mutually exclusive.
All that is left is to do is place the first order with the manufacturer, but the team have to pay up front, that is why the Mug Muscles launched their Kickstarter campaign. Support from beer athletes everywhere will allow the team to place an order with the manufacturer and start production, and make the Mug Muscles Beer Mug a reality. It's time to get Sippin' 'n Rippin'.