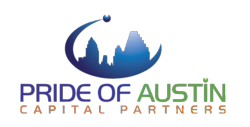 Pride of Austin Capital Partners has emerged as the model for mortgage pool fund managers.
AUSTIN, TEXAS (PRWEB) May 31, 2013
The American Association of Private Lenders (AAPL) has announced a one-day regional conference to be held on Monday, June 10 in Austin, Texas. The conference will offer a full day of educational real estate and investment topics and speakers, as well as breakfast and lunchtime networking sessions at the Conference Center in Austin's iconic Frost Bank Tower, 401 Congress Ave.
The event's speakers include AAPL Executive Director Larry Muck, Pride of Austin Capital Partners Managing Member David Owen, Austin Institute of Real Estate founder Wayne Morgan, and others soon to be announced. Topics will focus on: How to attract new investment, How to tap into IRA investors, Lending within ERISA guidelines, How to effectively educate investors and more. Attendees will also learn how AAPL can help boost lenders' profits and get a glimpse at the exciting new developments underway at the Association.
The day will feature a networking breakfast and lunch as well as post-event reception sponsored by event host Pride of Austin Capital Partners, where attendees will have the opportunity to post loans and meet investors.
Pride of Austin Capital Partners, under the management of David Owen and Robert Buchanan, has emerged as the model for mortgage pool fund managers. Their conservative and consistent underwriting standards have set the bar for asset-based lenders in Texas, as well as on the national stage. As AAPL board members, Dr. Owen and Mr. Buchanan are proud to host this inaugural regional meeting of direct lenders, real estate investors and commercial real estate brokers, for the purpose of promoting sounds financial and ethical standards among the members of the direct lending, asset-based lending or "hard money" community.
Formed in 2009, the AAPL is a national organization that represents the private real estate and peer-to-peer lending industry. The Association's principles – Excellence, Ethics, and Education – are the cornerstone for success in the industry.
Pride of Austin Capital Partners, LLC manages a fund filed with the Securities and Exchange Commission under Regulation D Rule 506 as well as with the appropriate departments of any State in which resides an investor in the fund. Pride of Austin is also a direct hard money lender for commercial and residential properties for real estate property and borrowers who do not meet the stringent requirements of conventional underwriting guidelines.
For more information regarding the conference, please visit AAPL.
Fore more information about Pride of Austin or the fund, please visit http://www.prideofaustin.com.