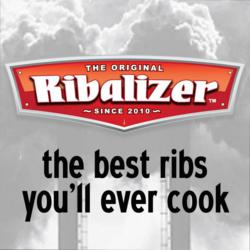 One of the problems many people encounter with a gas grill is how to make a decent rack of ribs. The new Ribalizer can do it in 2 hours, and the ribs are tender and moist, but neither under nor over cooked. Easy to use and reliable.
Phoenix, AZ (PRWEB) May 21, 2013
Americans love barbecue. Outdoor cooking and grilling are as popular as ever. Barbecue festivals, grilling tips and cooking shows are on the rise. And with Memorial Day upon us, it's time to dust off the gas grill and patio gear and get ready for some backyard cookouts. But making tasty barbecue ribs at home can be time consuming and failure prone. Now with the new Ribalizer rib cooking device, gas grill owners can make awesome ribs, ribs that have that perfectly bite-y backyard smoky grilled flavor, quickly and easily for family and friends.
"Who doesn't love great barbecue ribs? To me they epitomize outdoors, just having a good time with friends and family. I wanted perfect ribs with minimal hassle, and without spending days in the process," said Mark Vinci, inventor of the Ribalizer. A Phoenix based artist, food connoisseur, and lover of all things grilled, Vinci said he specifically designed the Ribalizer for people who want to make great ribs at home, but don't want to spend the better part of a day smoking ribs. The Ribalizer is fast, easy, and delivers foolproof results for the estimated 69 million gas grill-owning households in the U.S.
Derrick Riches, author and host of the popular About Barbecues & Grilling site (about.com Guide), lists the Ribalizer as one of his "Top 10 BBQ Father's Day Gift Ideas" saying in his recent "First Look" product review "The Ribalizer actually works. The ribs it produces are tender, yet firm. The meat holds to the bone, but comes away clean when you bite. There is a definite crusted surface and the flavor is not steamed or boiled. Additionally, the Ribalizer is easy to use and inexpensive."
Fast - The Ribalizer makes up to six full racks of tender, tasty ribs in two hours as opposed to traditional smoking that can take six to eight hours or more. Easy - The Ribalizer is practically hassle free and unlike other rib cooking methods, requires minimal monitoring. Three simple steps (Prep, Ribalize, Serve), and customers can enjoy great ribs. Foolproof - The secret to the Ribalizer is in the phasing of the cooking - smoking (with the lid off) which imparts the distinct barbecue flavor to the meat and then cooking covered (with the lid on) to tenderize the meat via the simmering liquid.
The Ribalizer consists of the Ribalizer rack and meat separator, along with four disposable, aluminum pans. The Ribalizer rack and meat separator are dishwasher safe, and replacement aluminum pans are readily available at retail or on the company's website. The Ribalizer is sold online at http://www.ribalizer.com at an introductory price of $24.95.
For the Ribalizer launch, Vinci collaborated with Phoenix filmmaker Paul DeNigris to develop "The Wisdom of the Carnivore", a series of short, humorous videos which are being released now via the Ribalizer YouTube Channel (youtube.com/ribalizer) and website. Also see facebook.com/ribalizer and @Ribalizer.
The Ribalizer is a registered trademark of Cenzo Products LLC, a new Phoenix, Arizona based company that Vinci and his sister Susan, along with their spouses, formed to develop and deliver cookware and related products. © 2013 Cenzo Products LLC.
Contact: Mark Vinci, 602-695-1087, mark(at)ribalizer(dot)com
Susan E. Vinci-Lucero, 505-699-9196, susan(at)ribalizer(dot)com
Derrick Riches authors and hosts the Barbecue & Grilling site at About.com, which Experian Hitwise ranks as the top destination for barbecue and grilling related information, with the largest share of the world's outdoor cooking enthusiasts ending up at bbq.about.com. © 2013 About.com. All rights reserved.