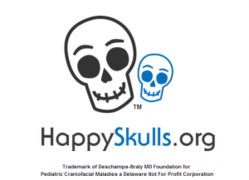 ...we can move forward with our primary mission of helping children and young adults with craniofacial conditions.
San Francisco, CA (PRWEB) June 04, 2013
HappySkulls.org, the Deschamps-Braly MD Foundation for Pediatric Craniofacial Maladies, received its first public donation on May 1st, 2013.
The funds were raised at an event that was sponsored jointly with the Epi Center Med Spa of San Francisco, CA, and featured a silent auction benefiting the charity.
HappySkulls.org, founded by San Francisco Plastic Surgeon, Dr. Jordan Deschamps-Braly, offers treatment for children with craniofacial conditions who otherwise could not afford or have easy access to such world-class medical treatment. The goal of the foundation is to improve access to medical care and facilities for those at home and abroad in a team-based environment.
The Founder of HappySkulls.org, Dr. Jordan Deschamps-Braly said, "This really helps us to move in the right direction. Now that we can get a lot of the legal work behind us we can move forward with our primary mission of helping children and young adults with craniofacial conditions."
One of the founders of Epi Center Med Spa, Margaret Mitchell, said of the event, "Dr. Deschamps-Braly has joined our team at Epi Center. We thought that of all the things that Epi Center could support, what could be better than helping children facing these great challenges."
ABOUT DR. DESCHAMPS-BRALY
Dr. Deschamps-Braly is an Oklahoma native who graduated summa cum laude from the University of Oklahoma Honors College. He did his initial training in General and Plastic Surgery at the University of Oklahoma, then trained in Craniofacial Surgery at Children's Hospital of Wisconsin. Following this, Dr. Deschamps-Braly completed a fellowship in Paris with world renowned surgeon Dr. Marchac and Dr. Arnaud at Hôpital Necker Enfants Malades and various private aesthetic surgery clinics. He subsequently worked in Zurich, Switzerland with Professor Obwegeser at the Craniomaxillofacial unit at University Hospital Zurich.
Dr. Deschamps-Braly's diverse medical background brings together a world of experience in the service of his patients. It allows for a broader range options and techniques to address various problems, while permitting him to better treat his patients, whether it be restoring a youthful face or restoring the face of a child or young adult with congenital deformity through his nonprofit foundation, Happy Skulls. Currently, Dr. Deschamps-Braly operates out the San Francisco Surgery Center at 450 Sutter, out of Oakland's Children Hospital and California Pacific Medical Center. For more information about Dr. Deschamps-Braly, please visit http://www.deschamps-braly.com or call 415-624-3922.
ABOUT EPI CENTER MEDSPA
Since 1998, Epi Center MedSpa has been a refuge for skin rejuvenation and renewal, providing a luxurious guest experience as well as the latest in skincare treatments. Considered the first medical spa concept of its kind to open in the United States, custom treatment programs are created for every guest to achieve natural, lasting results in a soothing, healthy environment. The center is an oasis in a prominent and accessible Union Square location, and is proud to be known as the first LEED Certified eco-friendly medical spa in the nation. The medspa has been recognized as 7x7 Magazine's "Best Medical Spa" in 2012, 2010 Top Medical Spa in the US by DaySpa Magazine, 7x7 Magazine's Best Green Spa, Best Day Spa by the readers of the chronicle.
Epi Center Medical Associates is made up of staff that includes a highly trained team of doctors, nurse practitioners, physician assistants, registered nurses and licensed aestheticians with daily on-site supervision by medical doctors. The solid experience of Dermatologist Patrick H. Bitter Sr., M.D. and Plastic Surgeon Jordan Deschamps-Braly, M.D. means patients can experience the benefits of services without worry. For more information about Epi Center MedSpa, please visit http://www.skinrejuv.com or call 415-362-4754.