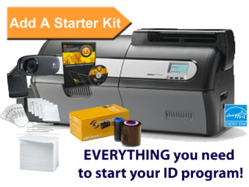 The ZXP7 is a secure high-performance, high-volume card printer that is easy to use and maintain – and cuts the cost per card to as low as 32 cents
West Sacramento, CA (PRWEB) June 11, 2013
ID Card Group, a leading provider of ID card printers, systems, supplies, and accessories is now offering the ZXP 7 card printer – Zebra's newest workhorse designed to replace the popular P330i, P430i, P630i, and P640i printers.
The ZXP 7 is a secure high-performance, high-volume card printer that is easy to use and maintain – and cuts the cost per card to as low as 32 cents with high capacity YMCKO printing.
Combining the powerful printing capabilities of the popular Zebra P330i and P430i printer models with the laminating capabilities of Zebra P630i and P640I printers, the ZXP7 printer is powerful enough to process three jobs at one time – such as encoding, printing, and laminating simultaneously.
Fully flexible and field upgradeable, the ZXP7 printer allows customers to add options as they need them – including dual-sided printing, laminating, and magnetic encoding modules. Wireless and FIPS 201 compliant dual-sided laminator options are also available, as is a physical locking system to protect the printer and media.
Offering the latest in card printing technology, the ZXP7 is suitable for high volume environments - such as personal ID and access control at service bureaus, educational institutions, and retail and hospitality sites - as well as high security environments, such as government authorization/authentication, facility security, and access control. The ZXP7 is also well suited for loyalty and membership cards, gift cards, event cards, and insurance cards.
Despite its powerful features, customers will find the ZXP7 intuitive and simple to use. Offering easy ribbon loading with Load-N-Go ribbon cartridges, handy color-coded guides, and an intuitive LCD control panel, the ZXP7 takes ease of use to new levels with its ability to auto adjust to the thickness of each card printed.
The ZXP Series 7 printer is designed to work only with Zebra True Colours® ribbons and laminates. These high-performance supplies make it easier than ever to manage printing – and reduce costs by delivering more images per roll.
High-capacity ZXP7 color ribbons also feature an improved formulation for printing high-quality images at higher speeds. Many ribbon types are available in two sizes to meet the needs of every printing task.
Zebra True Secure laminates reduce the risk of counterfeiting and extend the life of high-security cards. The unique laminate design dramatically reduces waste by eliminating the need for carrier material, backings, and liners. Specially designed cartridges make laminate replacement simple.
Both the ZXP7 laminates and ribbons utilize intelligent media technology, which automatically detects and calibrates the printer.
IDCardGroup.com is offering basic or complete starter kits with the Zebra ZXP Series 7 card printer. Starter kits simplify the start-up process for customers tasked with implementing an ID card or membership card program, yet who are unsure what supplies are required. Each starter kit is specifically created by ID Card Group to offer the best components at an affordable cost.
The ZXP7 basic starter kit adds one True Colours® ix Series single-sided or double-sided color ribbon for 250 images, 300 blank PVC cards, and one cleaning kit. The Complete starter kit adds CardExchange Entry Card Design Software by ExchangeIT and a web cam for capturing photographs to the Basic kit contents.
The ID Card Group Advantage
As an authorized Zebra printer dealer, ID Card Group has deep technical knowledge from years of experience working with customers who use Zebra card printers; printing systems; and supplies, including color and monochrome ribbons, cleaning kits, and printer covers and carrying cases.
About ID Card Group
ID Card Group offers a full line of ID card equipment, supplies, and accessories – from identification and access control products, to promotional products for loyalty or membership programs, to gift, payment, or phone cards and systems. Industries such as business, schools, government, military, law enforcement, healthcare, gaming, hospitality, trade shows/conventions, sports & entertainment and more choose ID Card Group for its selection, expert service, and low price guarantee. To learn more, call (877) 868-0012 or visit http://www.IDCardGroup.com.