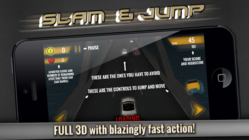 In addition to all the excitement of the game, lot of efforts have been made to make the best user experience
Barcelona, Spain (PRWEB) June 25, 2013
The recently launched free game Slam and Jump gives the best of 2D racing games to the world of 3D games. This endless racing game blows your mind and tests your reflexes with fast action while you unleash unique cars, travel along different worlds, get coins and challenges your friends!
Slam and Jump is a mix of ability and fast decision game that challenge the player to play as far as he can each time. By unlocking new cars, with the coins achieved, the player is able to improve his results at the same time that he discover new worlds.
Slam and Jump includes 4 different worlds where the user finds distinct challenges and levels. From having to sort few cars to even having to avoid buses, the game is really adictive with fast action. Consequently, the user can play in day or night mode, which will even add more challenge to the game.
"The game has been designed to make the user engaged from the first time he play, once the user plays, he gets addicted" states Ivan Paquico, developer and owner of Slam and Jump. In addition to this, Slam and Jump integrates Game Center, where the user can share his result and make challenges to his friends.
In addition to all the excitement of the game, lot of efforts have been made to make the best user experience in terms of game performance optimization. This work leads to a better use of the resources that each device has, causing Slam and Jump to be just as intense and addictive as it is, regardless if it runs in an iPhone or iPad.
Slam and Jump runs on an iPhone, iPad or iPod Touch, and requires iOS 5 or later.
The official webpage for Slam and Jump is http://www.slamandjump.com where even more information can be found, including in-game videos or other players results. The application is available worldwide on the Appstore in this link: https://itunes.apple.com/app/slam-and-jump/id626137362
About Ivan Paquico Rodríguez:
Ivan Paquico Rodríguez is currently a full-time iOS Developer who also spends his spare time trying to make his dreams and games come true. Slam and Jump, Hattrick iManager or Mystical Trick are good examples of iOS applications developed by his own.