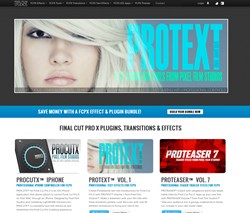 ProText Volume 1 provides editors with an amazing library of text tools utilizing 3D environments to use in Final Cut Pro X
Laguna Beach, California (PRWEB) August 07, 2013
Post-production studio and special effects developers, Pixel Film Studios, announced the launch of ProText Volume 1 today, a beginning to professional text plugins and effects for Final Cut Pro X.
"ProText Volume 1 provides editors with an amazing library of text tools utilizing 3D environments to use in Final Cut Pro X" Said Christina Austin, CEO of Pixel Film Studios, "This is something our users have been yearning for since the release of Final Cut Pro X."
Create Professional text title introductions for Final Cut Pro X with ProText Volume 1 from Pixel Film Studios. Make a statement with film titles with animation presets. Editors can look like a pro with over 50 different animations to bring titles to life.
Choose from over 50 different presets using ProText Volume 1 from Pixel Film Studios™. Everything from 2D text pans, to 3D rotating text can be used to create an artistic style that will match the look and feel of blockbuster films in Final Cut Pro X.
Control of your text animations is a click away. Change the look and feel of title animations with the on-screen controls in the FCPX viewer. Use ProText Volume 1 to select customizable controls for blurs and wipes to character start positions.
Volume 1 contains two-dimensional text animations and effects to three-dimensional rotating text to enhance films title entry in FCPX. Simply choose the look of animation text, and pick the start points to bring in your title with style.
ProText Volume 1 is designed to work inside Final Cut Pro X. Simply select the text animations and adjust the length until it matches the mood and style of an editors film.
Established in 2006, Aliso Viejo, California-based Pixel Film Studios is an innovative developer of visual effects tools for the post-production and broadcast community. Their products are integrated with popular non-linear editing and compositing products from Apple FCPX. All Apple, the Apple logo, and Macintosh are registered trademarks of Apple Inc. in the U.S. and/or other countries. All other trademarks and trade names are the property of their respective owners.